PVC Banners
Superchrome is an industry leader in large format printing. We have created amazing PVC banners for clients that include London 2012, Apple IPod and Metro Link.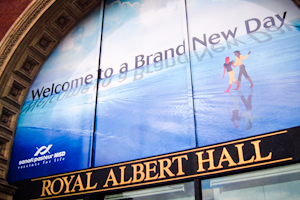 Do you have a sporting event, exhibition, or trade event coming up in the near future? Do you need an eye catching banner to promote your business brand? Our banners are suitable for inside or outside long term use and are made from high quality materials that are guaranteed to last. We can print banners of up to 5 metres in size.
Superchrome Specialises in Large Format Printing of PVC Banners
Choose from lightweight or heavyweight banners and a rainbow of colours. We can print any custom design and add your company logo or trademark to a sparkling new 100% PVC banner that can be hung outside for years – or inside if you prefer. Call us to discuss your bespoke design and choose from a range of finishes.
We provide high quality PVC banners at low prices. Superchrome banners are perfect for any outdoor display because they are waterproof and UV resistant. They will not fade. We digitally print using the latest technologies and produce vivid colours using the best eco-solvent inks.
Our PVC banners have heat sealed, welded hems and brass eyelets for extra strength or pole pockets. It's your choice. They are easy to hang and made to last. Superchrome banners are a cost effective solution for your business. Think big and order your banner today. Your company name will never be forgotten when customers see your big and beautiful banner in stunning colours.
We will even assist you with the installation and removal of your banner. Let Superchrome make your life easier so you can get on with the important things!
We have a wide range of banner masts and stands. Chronoexpo banner display systems are very popular at exhibitions and are guaranteed to attract new customers to your exhibition stand. Visit our one stop shop for all your exhibition needs.
Do you need ideas? Check out these PVC banners from previous clients to see how effective they are:
Get a Quotation Today for Your PVC Banners
Are you ready to order? All you have to do is upload your design to our website. Each file will be expertly managed by a skilled account representative to ensure that your order receives the attention it needs.
Or you can email your design to sales@superchrome.co.uk, or phone: 0870 242 1761, 020 7237 9333. We look forward to hearing from you.
CONTACT SUPPORT
Every file that you upload will be managed by an account representative to ensure that your
order receives the attention it needs.