ROLLER BANNER STANDS
» Click here to View Related Links
WHAT IS ROLLER BANNER STAND ?
A
roller banner stand
or roll up banner is a portable display system which is easy to set up and transport which makes them a popular choice for temporary displays. Roller banners are similar to movie screens and usually come with adjustable height poles. As a roller banner does not have any framework, a number of them can be linked together as a single unit.
Roll Up Banner Stands - Main Uses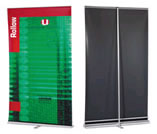 Superchrome supplies a wide selection of roller banner stands. The graphics are produced using a printing method that prints directly from a computer file rather than a slide or a photograph, without going through some intermediate medium such as a film negative, a color proof or a plate. The benefits of roller banner stand include protection of graphics, ease of transportation and set up and durability. A roller banner stand is frequently used for presentations, events, trade shows and in-store marketing. The printed information on the graphics is encoded in discrete, digital dots at various resolutions thus providing versatility and enabling scanning into storage and manipulation of data. In short, a roller banner stand is very cost-effective, eye catching, has the advantage of low set up costs and can be done on paper, canvas, mesh or vinyl to provide very high definition images.
One of Superchrome's roller banner stands in stock is the retractable roll up, priced at £68.00 + vat and supplied with nylon carrying bag with lighting optional.
Why Choose A Superchrome Roller Banner Stand
Roller banners from Superchrome are an excellent choice for exhibitions, road shows or promotional events because they are durable and lightweight. Our banners are available in different heights and widths with a choice of flat, concave or convex sections. They can be used for floor standing or table top displays and adjusted to varying heights. We can also supply a custom
roller banner stand
in extra large sizes upon request.
Superchrome offers a choice of durable high quality substrate material for roller banners. We make use of the latest advanced digital technology to print our large format banners using fade resistant waterproof UV and solvent inks. Graphics can be single or double sided.
Our banners come packed in neat nylon carry bags for safe handling and storage. Fast delivery and affordable prices are other benefits of buying your
roller banner stand
from Superchrome.
For More information, Call
020 7237 9333
or Email:
sales@superchrome.co.uk
Call now
0207 237 9444
for all inquiries and quotes.
Exhibition Display
Banner Stands
CONTACT SUPPORT
Every file that you upload will be managed by an account representative to ensure that your
order receives the attention it needs.