ELECTRONIC SIGNAGE
WHAT IS ELECTRONIC SIGNAGE ?
Electronic signage
, also called dynamic signage or digital signage, is a flat large format display screen for displaying advertising or informational content. It comes in various forms for use indoors or outdoors including fluorescent signs, HID (high intensity displays), incandescent signs, LED signs and neon signs.
With advances in display technology,
electronic signage
is able to present clearer, more colourful and vivid images and its use is becoming more and more widespread. Animated
electronic signage
is gradually replacing traditional static signs for advertising purposes because its dynamic content is a very effective method of communication that is difficult for passersby to ignore.
Types of electronic signage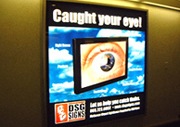 Outdoor LED Signs

- have weatherproof casings, ensuring long term reliability even in the harshest of environments.

Indoor LED Signs

- Single Line Displays and Multi-Line Displays come in various character heights and LED brightness, ensuring the text can be easily read at the required viewing distance

Time / Temperature LED Displays

- a powerful outdoor marketing tool which can incorporate the company name, logo and marketing messages.

Reception LED Displays

- designed to enhance the reception area by welcoming Visitors and staff with clear, up to date information

LCD Monitor Systems

- include integrated touch screens and sunlight readable screens utilising either transflective or transmissive technology. Used for information, reception and retail window displays.
Uses of electronic signage
Electronic signage is mainly employed by:
retail chains to encourage impulse purchasing at the point of sale
hotels, hospitality venues and conference centres to direct guests to events
universities, hospitals and government buildings for emergency messaging and general information
Airports and stations to provide information about services, arrivals and departures, delays, etc.
WHAT WE ARE OFFERING
Superchrome is a total solution provider for electronic signage and it will guide its customers throughout the project, from design and sourcing to implementing and meeting support requirements.
GRAPHIC FILE REVIEW
Every file that you upload will
be managed by an account
representative to ensure that
your order receives the
attention it needs.