Digital Printing
What is Digital Printing?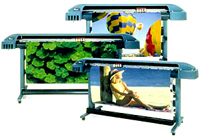 Digital printing
is a technique that produces prints directly from a computer file rather than a slide or a photograph, without going through some intermediate medium such as a film negative, colour proof or plate. The benefits of digital printing include faster turnaround times, lower production costs and the ability to customise documents. The printed information is encoded in discrete, digital dots at various resolutions thus providing versatility and enabling scanning into storage and manipulation of data.
Main advantages of Digital Printing
Digital printing
has many advantages, the main ones being faster turnaround and lower production cost so it is frequently used for on-demand or short-run colour printing. It is very cost-effective on short print runs owing to the low set up costs and the fact that there are no minimum volume restrictions. Other advantages include:
Suitable for printing materials for interior or outdoor use
Printing can be done on many different substrates
Waterproof and fade resistant inks can be used
Any size can be printed including large format and extra wide format
Substrates for Digital Printing
Digital printing
produces very high definition images on a wide range of materials of different thicknesses, weights and finishes including photo paper, vinyl, film, mesh, canvas, and various textiles. Digital flatbed printers can also print directly onto most flat surfaced rigid or flexible substrates including: PVC Foamex, ACM (aluminium composite material), acrylic, corrugated board, polycarbonate, polyboard and card.N This website highlights the projects we have done and the wide range of digital printing services we offer. Our client portfolio includes large and small businesses both private and public sector: major retail groups, advertising agencies, filming companies, charities, museums, art galleries architects, designers, conference and trade show organisers.
London Digital Printing Services
If you would like to know more about large format digital printing or if you want to discuss any project you have coming up then contact us at 020 7237 9333 or fax 020 7237 9444 or email sales@superchrome.co.uk. Our experienced technicians can offer appropriate information.
GRAPHIC FILE REVIEW
Every file that you upload will
be managed by an account
representative to ensure that
your order receives the
attention it needs.