TWIST BANNER STAND
» Click here to View Related Links
WHAT IS TWIST BANNER STAND ?
The twist banner stand is a brilliantly designed flexible, easy to use, aesthetically pleasing portable display system. Each twist banner can be used as a standalone banner or combined with a limitless number of others via Flexilink panels to create almost any shape and configuration including curves of any angle. The modular range includes the media twist banner stand with optional build in TFT screen.
Uses Of Twist Banner Stands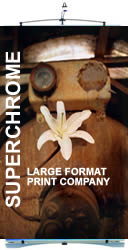 Exhibitions & trade shows
- Great for disguising shell schemes or using on space only sites, twist banners can be combined to create virtually any stand or display configuration required including curves.
Conferences
– Twist banners can be linked with Flexilink Panels to form backdrops of almost any size, shape and varying heights.
Road shows
- Designed to be easily portable, a standalone twist banner is ideal for temporary displays in shopping centres, hotels or even outdoors
Retail
– Designed with the retail sector in mind, media twist banners incorporating TFT screens are ideal for displaying product ranges, point of sale displays or in-store demonstrations
Superchrome Twist Banner Stands
Superchrome is one of the leading UK
twist banner
stand suppliers. The state of the art printing technology we use in our production process gives our customers the best print quality and we can apply graphic to both sides of the banner. Superchrome's
twist banner stand
range is available single or double sided, in either 2m or 2.3m high by 700mm, 900mm or 1m wide. Our twist banners are provided with cases so that they can easily be transported by car or shipped abroad. Accessories such as lighting and literature racks are also available.
Advantages
Quick and easy to assemble
Patented tensioning system to ensure taut, perfectly aligned graphics
Versatile - can be used as a single unit or combined to form an endless number of possible configurations including exhibition stand and backdrops
Graphics can be printed on both sides to form a double sided banner
Self -levelling on uneven surfaces
Can be lit on both sides using integrated lights
TFT screen integration with VESA brackets included
Lightweight and easily transportable – comes with its own case
For More information, Call
020 7237 9333
or Email:
sales@superchrome.co.uk
.
Exhibition Display
Banner Stands
CONTACT SUPPORT
Every file that you upload will be managed by an account representative to ensure that your
order receives the attention it needs.