MESH BANNER
» Click here to View Related Links
WHAT IS MESH BANNER ?
A mesh banner is a perfect outdoor graphic solution for scaffoldings and building wraps in windy conditions. Mesh is a lightweight fabric like material that is tightly woven and very strong; the advantage of mesh banners is that you no longer need to cut wind holes. Mesh is ideal for large exterior banner needs: heavy mesh material is flame retardant and resistant to tearing and it is directly printable using UV and solvent inks.
Mesh banners are the perfect way to conceal building works or redevelopments. They can also be used for stage backdrops.
Advantages Of Mesh Banner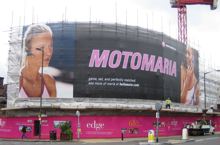 Mesh banners have numerous advantages, the main ones being:
No longer need to cut wind holes in the banner because the fabric has hundreds of small perforations that allow air to flow it.
Mesh perforations reduce the load placed on both the supporting structure and on the mesh itself which means that a

mesh banner

highly resistant to wind damage.
Flame retardant mesh complies with Health & Safety and Fire Regulations.
Low weight of mesh banner makes it ideal for extra large applications such as building wraps and stage backdrops.
mages are printed directly onto mesh fabric using solvent and UV inks for photo-realistic quality and increased resistance to fading
WHAT WE ARE OFFERING - High Resolution Mesh Banner Printing
Superchrome has years of experience in the field of digital
mesh banner
printing. Cricket fans will no doubt be pleased to know that Superchrome produced the wide format 'Go England' banner for Scottish Electrics for the cricket test match between England and Australia at the Oval in September 2005. Our mesh banners have also been used for conferences and music festivals.
Superchrome will produce a
mesh banner
of any size for any application at very competitive prices. We offer a complete banner printing solution, from design of the artwork, to printing and finishing. We can even install and remove the banners if you wish. We use the best material available and finish the banners to our customers' specifications with reinforced hems and eyelets as standard.
If you would like to find out more about our large format
mesh banner printing
, Call
020 7237 9333
or
Email:
sales@superchrome.co.uk
CONTACT SUPPORT
Every file that you upload will be managed by an account representative to ensure that your
order receives the attention it needs.