EXHIBITION SYSTEMS
» Click here to View Related Links
Exhibition Display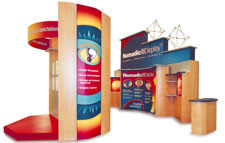 Superchrome, A leading company in the production of exhibition panel displays. With state of the art technology used in the production process give our customers nothing but excellent quality. View list of products for exhibition display systems we are offering below.
Banner Stands
Banner stands by Superchrome are custom made using a printing method that prints directly from a computer file rather than a slide or a photograph, without going through some intermediate medium such as a film negative, a color proof or a plate. View list of banner stands we are offering below.
Case Studies

Exhibition Display
Banner Stands
CONTACT SUPPORT
Every file that you upload will be managed by an account representative to ensure that your
order receives the attention it needs.