portable display stands
WHAT IS PORTABLE DISPLAY STANDS ?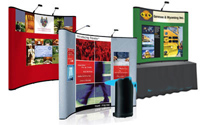 Portable display
stands are intended to display graphics for short periods which can be as little as a single day and are often used in different locations. They therefore need to be lightweight, quick to assemble and dismantle, easy to transport and ideally capable of allowing the display of different graphics for multiple campaigns. Individual
portable display stands
can be used on their own or combined with other stands to build backdrops for exhibition shell schemes and walk-around displays.
Types of portable display stands
ROLLER BANNER STANDS
- Probably the most popular form of
portable display stands
as they are portable, retractable, weatherproof and suitable for indoor or outdoor use. They can be set up in seconds and may be printed on both sides for maximum exposure of your advertising message.
TENSION BANNER STANDS - Lightweight and highly portable display stands that are sturdy and hardwearing for use outdoors in all weather conditions or in high traffic public areas. Often have moulded bases that can be filled with water or sand for extra stability.

POP-UP STANDS are used to create a professional backdrop for road shows and exhibition stands to promote a brand or message. They are an ideal solution when quick, easy to erect portable display stands are needed as they can create an almost seamless graphic wall almost instantly. There are several types:
Graphic Pop Up Stands – printed with hard wearing graphics, including the option of anti-fade weatherproof graphics for outdoor use.
Fabric Pop Up Stands – best for short term displays as their Velcro friendly fabric panels allow quick change of graphics
Modular Pop Up Stands – have all the benefits of a pop up stand but with the versatility of an additional range of accessories to complement the display stand.
TWIST DISPLAY STANDS– A fantastic alternative to pop up stands, they can be used as a standalone banner or combined with a limitless number of others via Flexilink panels to create almost any shape and configuration including curves of any angle.
Superchrome portable display stands
Superchrome has an extensive range of
portable display stands
available in a choice of materials, colours configurations and sizes. Displays can feature full colour graphics or be branded with a company logo. All our stands are built to withstand the rigors of a high traffic environment, making them a popular choice for retail outlets, public buildings and exhibitions.
Superchrome's range of
portable display stands
includes modular displays, roll up, pop up, banner stands, back walls and table tops. We use high tech digital printing for all our display graphics which has the advantage of low setup costs, quick turnover and enables us to offer competitive rates for small print runs and one-off projects. We also supply replacement graphics for your existing display stands. All Superchrome displays are provided with cases so they can easily be put into a car or shipped to various locations.
For more information, Call 020 7237 9333or Email: sales@superchrome.co.uk
CONTACT SUPPORT
Every file that you upload will
be managed by an account
representative to ensure that
your order receives the
attention it needs.