PROMOTIONAL SIGNAGE
WHAT IS PROMOTIONAL SIGNAGE ?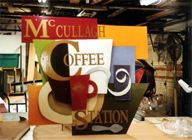 Promotional signage is an important part of the marketing mix and plays a key role in information solutions. It is an ideal way to convey targeted information, entertainment, merchandising and advertising to an audience, attract new business and maintain existing customers. A good sales effort will insure that the promotional signage is kept loaded with eye catching content and kept up to date without being repetitive. The number of viewers looking at the signage will greatly depend on the quality of the signage.
Promotional signage produced digitally uses a printing method that produces prints directly from a computer file rather than a slide or a photograph, without going through some intermediate medium such as a film negative, a colour proof or a plate. The benefits of digital signage include faster turnaround times, lowered production costs, and the ability to personalise documents. Digital signage is frequently used for on-demand or short-run colour printing. The printed information is encoded in discrete, digital dots at various resolutions thus providing versatility and enabling scanning into storage and manipulation of data. In short, digital printing is very cost-effective on short print runs, has the advantage of low set up costs, no minimum volume run and can be done on a number of substrates.
Superchrome signage printing services
Superchrome can supply all types of
promotional signage
for advertising displays, retail, events and exhibitions including hoardings, posters, billboards, building wraps, vehicle wraps, pavement signs, vinyl banners, PVC banners and backlit signs. We also have a team of skilled installers will carry out installation and removal of promotional signage on request.
Promotional signage specification
Sizes
- standard sizes for Corex and Foamex signs are A4, A3, A2, A1 and A0. Custom sizes and Large Format signage print are available on request.
Substrate materials
–
Superchrome
signage is available on a choice of substrates to suit every purpose:
COREX

is a light weight, water resistant type of plastic with a honeycomb structure. Corex signs last about six months and are ideal for inexpensive temporary outdoor signage such as property development signs, estate agent signs, political campaign signs, charity fundraising and special events signs

FOAMEX

is a flexible material which comes in various thicknesses (1mm, 3mm, 5mm or 10mm). It can be used as a backing for signage instead of a frame. Graphics can also be printed directly onto foamex. The main advantage of Foamex is its durability. Foamex signs last up to a year outdoors and up to 10 years indoors

ALUMINIUM

sheets of 3mm thickness are used as a backing for self adhesive vinyl graphics and lettering. They can be laminated for improved weather resistance.

DIBOND

is a relatively lightweight yet aluminium composite material consisting of a polyethylene core covered on both sides with aluminium sheets

VINYL and PVC

are durable and weatherproof so they are commonly used for weather resistant banners and signs.

SELF ADHESIVE VINYL

graphics and lettering are widely used for window displays, vehicle wraps and customising vehicles with company livery.

MESH

fabric is employed for extra large forms of signage including building wraps as the perforations allow the wind to blow through so it is highly resistant to wind damage and tearing.
GRAPHIC FILE REVIEW
Every file that you upload will
be managed by an account
representative to ensure that
your order receives the
attention it needs.