Digital Print Canvas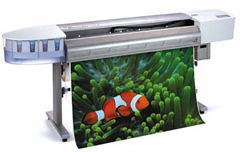 Superchrome's digital print canvas services offer highly professionalized services to clients in the UK. Digital printing involves reproduction of digital images on to any surface. The advantages of digital printing are many. Digital files can be directly printed from the computer without any media in between. Also manipulation and storage of digital data becomes very easy for future use.
Superchrome
digital print canvas service accepts different sources of image. We first scan the photographs, papers, films, and convert them into digital images. If you want to convert your wedding or family photographs into beautiful prints on canvas material giving an artistic effect to them, you need look no further. We are experts in all kinds of printing, and use state of the art print technology, to offer you excellent service with a fast turnaround time.
Our digital print canvas is either special grade artist canvas or the regular standard canvas. All canvas is made of 100% cotton fiber material that deeply absorbs the ink to give a perfect image definition. It is also water resistant and UV protected.
Printed on Canvas + Seal
Plus Design: £95
Discount Prices
Canvas Prints
x1
x4
x10
A2: 420x594mm, 16.5x23.5"
£ 48
£ 154
£ 296
A1: 594x841mm, 23.5x33.25"
£ 65
£ 214
£382
A0: 841x1189mm, 33.2x46.8"
£ 74
£ 235
£ 441
2A0: 1189x1682mm, 46.8x66.4"
£ 144
£ 488
£ 1080
20x30", 508x762mm
£ 68
£ 218
£ 380
30x40", 762x1016mm
£ 76
£ 239
£ 451
60x40", 1016x1524mm
£ 85
£ 265
£ 518
Canvas Prints Stretched (Frames)
x1
x4
x10
2A0 (1189 x 1682)
£ 288
£ 976
£ 2160
AO (841 x 1189)
£ 145
£ 492
£ 1090
A1 (594 x 841)
£ 98
£ 336
£ 780
A2 (420 x 594)
£ 75
£ 252
£ 600
A3 (297 x 420)
£ 55
£ 192
£ 440
A4 (210 x 297)
£ 30
£ 104
£ 230
Our
digital print on canvas service
is very popular with the art communities. Abstract art prints are ideal as centerpieces to be mounted on walls. Superchrome supplies both stretched and unstretched canvases. Stretched canvases are heat sealed over well finished wooden frames to give a rich effect. These will be dispatched to you by Royal Mail. Our unstretched digital print canvas is dispatched in card board boxes.
Superchome is also expert in producing giclee canvas prints. These digital prints have perfect reproduction accuracy as they are not made up of dots but sprayed on to the surface in a continuous mode. Giclee prints are most suited for reproducing works of art.
Our prints are delivered bubble wrapped if stretched and sent by Royal Mail. Contact us for quotes. We assure a fast turn over time of just two to three days. Our high quality digital print canvas service is very competitively priced.
If you would like to know more about Digital Print Canvas, any of the projects shown or if you want to discuss any project you have coming up then contact us 020 7237 9333 or fax 020 7237 9444 or email sales@superchrome.co.uk. Our experienced personnel would be able to guide you appropriately.
CONTACT SUPPORT
Every file that you upload will
be managed by an account
representative to ensure that
your order receives the
attention it needs.