Floor graphics
WHAT IS FLOOR GRAPHICS?
Maximise the use of valuable retail space by using
floor graphics
to turn your shop floor into effective, eye catching advertising! Floor graphics are a clever way to convey your marketing message to potential customers when displayed on the pavement outside your retail outlet or to create special sections inside a shop to promote specific product ranges. Full colour
floor graphics
are also used for retail aisle markers and to direct visitors in public buildings, offices, hospitals, schools, museums, etc. By creating imaginative, innovative, unusual graphics which are specifically designed for applications on the floor you can maximise impact and get your customers' attention.
Superchrome floor graphics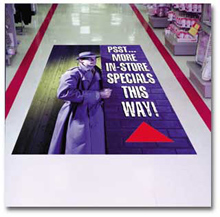 Superchrome supply durable floor graphics and short term promotional vinyl floor graphics for both internal and external applications, with a number of specialist materials available:

INTERIOR – Two types of inter floor graphics available: 30 day interior film with excellent removable adhesive properties, ideal for short-term applications such as trade shows and events and durable internal floor graphic film which lasts up to 12 months for museums, hospitals, schools, exhibitions, corporate and retail use.

EXTERIOR - External grade pavement graphic film lasts up to 3 months depending on environment making it ideal for short tern promotions such as seasonal offers and events.
Specifications
Superchrome
floor graphics
are digitally printed onto specialised 3 M self adhesive vinyl which is laminated with a specialist coating to offer maximum resistance to UV light, chemicals and weathering. Depending on the intended use, floor graphics can be printed using water based inks or fade resistant Eco inks. Superchrome
floor graphics
are supplied with antiskid, anti-slip and anti-scratch surfaceto comply with Health and Safety regulations. The excellent finish of our
floor graphics
makes them resistant even to spike heeled ladies shoes so they can be used in heavy traffic areas such as pavements, car parks, hospitals, schools, trade shows, etc.
Superchrome floor graphics come in 60inch widths as standard but can be made to any length depending on customer's requirements. We also supply custom floor graphics and special finishes at competitive prices.
Why choose Superchrome floor graphics
Purpose made for indoor and outdoor use
Special hard wearing, weather resistant finish for exterior use
Durable, last up to 12 months indoors and 3 months outdoors
Resistant to abrasion including high heeled shoes
Quick and easy to apply and remove
Do not damage floors or leave marks when removed
Safe non-slip finish to comply with Health & Safety regulations
CONTACT SUPPORT
Every file that you upload will
be managed by an account
representative to ensure that
your order receives the
attention it needs.