Building wraps graphics
WHAT IS BUILDING WRAPS GRAPHICS?
Building wraps
are an extra large outdoor advertising medium that by their sheer size are sure to can easily capture the attention of everyone passing by and create awareness of a construction project, service or product. Because of their prominence and high visibility,
building wraps graphics
are a very effective form of advertising, which can help in to reinforce your brand name and attract the attention of potential customers. They are highly versatile and have many applications.
Uses of building wrap graphics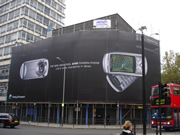 ADVERTISING
-
Building wraps graphics
are a relatively new form of marketing which are being adopted by most advertising agencies. Though they costs little more than traditional signs, the high impact of
building wrap graphics
has been shown to give more impressive results .
INFORMATION - Building wraps are applied to scaffolding or hoardings surrounding a new build or renovation project to provide information about what the building will look like.

AESTHETICS – The vibrant colours and eye-catching design of building wraps graphics can enhance the appearance of the building it is displayed on, making it more attractive. This is particularly the case when building wraps graphics are used to decorate scaffolding on building sites.
Building wraps specification
SUBSTRATES - PVC mesh, self-adhesive vinyl and perforated self-adhesive vinyl are the most common materials used for
building wraps
. Mesh PVC is the preferred choice for very large building wraps applications where safety of the installation and wind-load are a primary consideration. Small perforations in the fabric allow air to flow through the mesh, which reduces the load placed on the structure or building and on the building wrap itself. PVC mesh is also very durable.
INKS - Our ultra-strong and flame retardant
building wraps graphics
are printed using solvent inks for photo-realistic quality and increased resistance to fading, to ensure they retain their vibrant colours longer.
FIXINGS – Building wraps come with reinforced hems as standard, with optional reinforced eyelets or pole pockets for ease of fixing.
Superchrome turnkey building wraps graphics services
Superchrome, with its wide experience in printing technology, has proven to be a leading service provider of building wraps graphics. We can design, print and install building wraps that are extremely durable and withstand harsh weather conditions.
At Superchrome we can provide our customers with complete building wraps graphics solutions, from initial survey and designing consultation to installation. Our investment in wide format printing technology allows us to print on your choice of durable material using ultraviolet resistant inks. Superchrome employs specially trained and experienced installers who can install building wraps securely to the structure within the agreed time period.
Features
light weight
weather resistant and durable
long lifespan
Reinforced hems and fixings.
optional reinforced eyelets or pole pockets
competitive price
CONTACT SUPPORT
Every file that you upload will
be managed by an account
representative to ensure that
your order receives the
attention it needs.