OUR PRINT MANAGEMENT SYSTEM
OUR PRINT MANAGEMENT SYSTEM
Why Choose Acrylic Printing?
Superchrome is a digital printing company based in London and specializing in large format printing and providing banner printing, poster printing, photo printing and signage. Our digital printing services also include the production of portable display stands and the supply of art print in the , and in particular canvas print and photographic print for museums and galleries. The Key to Superchrome's success has been our aspiration to respond promptly and efficiently to our client's changing requirements, keeping abreast of new print and production technologies. PRINT port developed by Uniport Ltd, is the best instance for this.
Many of our customers are spreading the news that Superchrome is no longer synonymous with just quality printing, but also is a foremost
player in introducing various print management solutions in London and UK so as to make available hassle free printing solutions to our customers in and around London and also throughout UK.
PRINT MANAGEMENT SYSTEM BY SUPERCHROME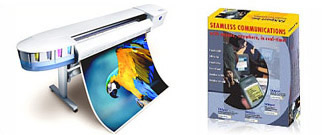 By making use of innovative technologies such as the PRINTport print management system we were successfully able to increase the productivity and profitability of our commercial and enterprise printing services. We were capable to handle complex projects and create unique solutions addressing our printing operations and marketing challenges. We have also laid the foundation stones to create long-term beneficial partnership with major organizations as a result of this.
With the implementation of this revolutionary print management software, our productivity across the printing cycle improved greatly, while its intuitive user interfaces decreased operator error and turnaround times and simplify the job cycle.
Want to know how PRINTport can help your business today. For a free business consultation, call Superchrome in London UK on 020 7237 9333 9444 or email
sales@superchrome.co.uk
. For further details regarding PRINTport print management system, you can also visit the PRINTport product page on Creative IT
CONTACT SUPPORT
Every file that you upload will
be managed by an account
representative to ensure that
your order receives the
attention it needs.