large format digital print
large format digital print
WHAT IS LARGE FORMAT DIGITAL PRINT ?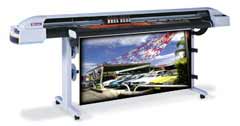 Large format digital print services are the most popular printing services for promotional displays, advertising signage, portable displays, display panels, banners, in-store points of sale, showcases, presentations, posters and interior design.
Superchrome, the large format digital print professionals, uses the latest digital printing technologies to produce high catching high quality large format prints. Our printing methods allow low costs, fast turnaround times, high-resolution images and graphics as well as no minimum print runs.
The large format digital print media used by Superchrome include common paper, art paper, photographic paper, vinyl, canvas, backlit and many more. Prints are created for indoor uses or outdoor uses, using UV inks for outdoors, dye pigmented inks for indoors and solvent inks for indoor or outdoor without having to laminate the prints.
Superchrome also offers wide format digital printing services for a wide range of high quality promotional materials such as billboards, advertising hoardings, building wraps, vehicle wraps and point-of-sale displays.
Value-added services from Superchrome also include graphic design services, high resolution scanning, mounting and laminating.
Universities, ad agencies, museums, galleries, architects, local authorities, event management companies and other organisations have chose Superchrome
Superchrome – leaders in supply of large format digital print
Superchrome offers quality
large format digital print
with rapid turnaround at affordable rates. Using both flatbed and roller printing equipment, we can print on all commonly used substrates including matte or gloss photographic paper, coated papers, self adhesive film, PVC, vinyl, mesh or canvas. Depending on intended use and client's specification, we can use UV ink or solvent inks for
large format digital print
to ensure maximum resistance to UV light and fading.
Our customers
Superchrome have been working with certain sectors, such as retail, events, photography and advertising, for the last ten years so we are well aware of their specialised needs and time constraints. Our range of
large format digital print
services includes:
SIGNAGE- This can be supplied for many applications such as architectural signage, illuminated signage and directional signage

RETAIL GRAPHICS – we can provide everything required including window displays, Point of Purchase and Point of Sale displays on paper, self adhesive vinyl, PVC, textile or acrylic.

ADVERTISING & PUBLICITY MATERIAL – we offer fast turnaround and customisation for display posters, banners, indoor and outdoor displays

EXTRA WIDE GRAPHICS - our wide format printing capability enables us to offer mesh print, blue black paper and PVC banners for large scale long lasting outdoor applications including advertising billboards, construction hoardings and building wraps for on-site promotions.

EVENTS GRAPHICS - Superchrome supplies the conference and exhibition industries with exhibition stand graphics, vinyl banners, wall mounted displays, posters, stage backdrops and venue signage

FLOOR GRAPHICS – we supply directional floor decals to direct people to certain locations on site and advertising graphics to create brand awareness in corporate environments. Our floor graphics are printed on high quality anti-slip durable vinyl which lasts up to ten years. Our floor graphics can be used in heavy traffic areas such as hospitals, offices and shopping malls.
CONTACT SUPPORT
Every file that you upload will be managed by an account representative to ensure that your
order receives the attention it needs.