CHRONOEXPO 4
» Click here to View Related Links
WHAT IS CHRONOEXPO 4 ?
the newest additions to the range, chronoexpo®4 mast and chronoexpo®4 stand, combine simplicity and style and can be used in any situation.
Two versions are available: Mast and Stand
WHAT WE ARE OFFERING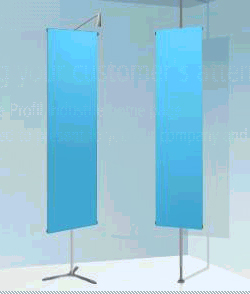 SPECIFICATION SHEET
Heights:
90 to 400 cm
Widths:
30 to 120 cm
Weight:
(without graphic panel) 1.5 kg
Materials:
aluminium and plastic
Graphic trims with clip Lighting as option
Depth of footprint:
40 cm
Price without graphic panel:
Chronoexpo3 80x200 cm:
£165
Chronoexpo®4 mast 80x300 cm :
£252.00
Chronoexpo®4 Stand 80x200 cm :
£192.00
Please note all systems are supplied with graphics. Artwork should be supplied print ready. Price are exclusive of Vat
For More information, Call
020 7237 9333
or Email:
sales@superchrome.co.uk
Exhibition Display
Banner Stands
CONTACT SUPPORT
Every file that you upload will be managed by an account representative to ensure that your
order receives the attention it needs.