Window Graphics
Superchrome are the leading supplier and printers of window graphics. We use the latest eco-friendly HP printers and latex, eco-solvent or UV inks to print onto adhesive vinyl or a range of other substrates. We also take custom orders and all you have to do is call us to discuss your special order with our team of designers.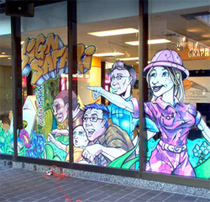 Window Graphics Transform Windows
Window graphics will make your windows look stunning. Transform plain glass windows into something that will attract customers into your shop or offices. Add vinyl lettering with your shop or business name, opening hours, add beautiful swirling graphics such as shapes and flowers or modern squares.
Create your own design and choose from frosted or clear window graphics for a professional window display that will attract customers from across the street. Go for stunning colour lettering, smart frosted or plain white.
Superchrome Stock a Variety of Window Graphics Substrates
Static window graphics attach to the window with static and peel off when you no longer need them. They come in clear or white and are designed to attach to the inside of your window without adhesive.
Contravision is a perforated vinyl. Passers-by will see the advertisement on the outside, but they will not be able to see through into the office. People inside will still be able to see outside. It turns the window into one-way glass.
Frosted self-adhesive vinyl will be digitally printed with your own artistic design. It gives an etched effect to windows and makes them look extremely attractive to customers. Frosted vinyl is often used for hairdressers window displays, retail shops, offices and coffee shops. It blocks 95% of UV light and lets in 70% of natural light. This helps to prevent furniture from fading too. It can be applied inside or outside and has an outdoor lifespan of five years.
Our team of professional installers will apply your window graphics for you, because it is not as easy as it looks!
Order your Window Graphics today
Our team of designers are ready and waiting to help you with your order. We specialise in custom orders and are always happy to help with design.
Please contact Superchrome in any of the following ways:
Superchrome is waiting to install your window graphics.
CONTACT SUPPORT
Every file that you upload will be managed by an account representative to ensure that your
order receives the attention it needs.