Wall Graphics
Superchrome is a large format printing company and exhibition suppliers. We print and supply exhibition furniture, exhibition displays and stands. We print large format banners for the outdoors and inside. We design and print large backdrops on a wide variety of substrates.
Wall graphics are ideal for everyone. They can brighten an office or a home. They are often used on walls behind office reception desks to show customers they are in the right place or in reception areas. Place wall graphics on your exhibition stands too.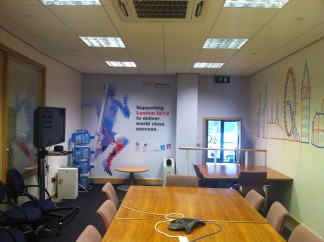 We Print Wall Graphics Using the Latest Technologies
We print using HP Designjet printers and UV or latex inks, which are eco-friendly and long lasting. UV inks ensure the printed graphics are protected from sunlight and will not fade.
Wall graphics are printed onto self adhesive vinyl. These can be placed directly onto the wall or applied to a board like Foamex. Foamex allows the graphics to stand out slightly from the wall and it is easy to move around. Foamex comes in a variety of sizes. Acrylic could be placed on top of the mounted wall graphics to protect them from fingerprints and dirt and they add a three dimensional look in addition to a shine. We can also provide lighting.
You can be Creative with Superchrome Wall Graphics
Be creative and design your own wall graphics. They can be anything! Flowers, animals, robots, swirls, business graphics, your artwork, your children's' drawings, company logo, and add any style of lettering to finish off the amazing effect. Graphics can be colour, black or white, clear or frosted. Upload your image to our website, fill in your details on the form and Superchrome will do the rest.
We also print and supply fantastic floor graphics! Our professional installation team will come to your premises or home and apply the wall graphics for you, because it is not as easy as it looks.
Order your Wall Graphics today
Contact our helpful Superchrome design team today to discuss your custom project with experts. We are always happy to help our valued customers – day or night.
Please contact Superchrome in any of the following ways:
Thank you for visiting our website today. Superchrome is waiting to brighten your walls with our fantastic wall graphics.
CONTACT SUPPORT
Every file that you upload will be managed by an account representative to ensure that your
order receives the attention it needs.