Vinyl Banners
Superchrome, based in London UK are a large format printing company that supplies exhibitions with furniture, stands, wall graphics, floor graphics, signs and banners. We have offices worldwide and cater for many happy customers all over the world.
We use the latest printing technologies and the highest quality eco-friendly inks to print your company brand, logo and design onto vinyl banners. We can print large format and we can stitch or weld multiple banners together to create a huge one. Size is not our limit. We enjoy custom orders and are happy to work with our customers to make the best designs on the right types of substrate. Just give us a call at anytime of the day or night.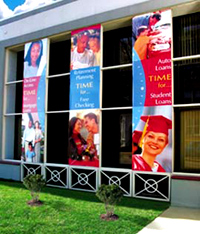 Superchrome's Vinyl Banners are Cost Effective
Superchrome's vinyl banners are the most cost effective way of advertising and one of our most popular products. 440 gsm PVC is our standard outdoor banner grade material. We also print banners on 340 gsm or 270 gsm PVC vinyl and big building wraps on 510 gsm PVC. Don't worry; we will advise you on the best grade for your project.
We also print onto mesh. Mesh banners are perforated to allow the wind to blow through the banner. This puts lets strain on the mesh banner and on the tall building.
Vinyl Banners Finishing Options and Sizes
All our vinyl banners can be hemmed or left straight. If you wish to hang your vinyl banners we can add brass eyelets or pole pockets if it needs to go into an exhibition stand. We have a wide range of exhibition stands available. Ask to see our range of banner stands.
We can weld multiple banners together to make big sizes e.g. 10m x 10m x 4. Or choose 2 metre or 3 metre sizes.
Banners last one to two years outdoors and mesh lasts one year as the mesh perforations eventually get filled with dirt and it stops doing its job.
Don't forget that vinyl banners can be recycled when finished with. It's easy to order with Superchrome.
Order your Vinyl banners today
Our team of experts are waiting to help you with your order.
Please contact Superchrome in any of the following ways:
Superchrome is waiting to send your vinyl banners.
CONTACT SUPPORT
Every file that you upload will be managed by an account representative to ensure that your
order receives the attention it needs.