Trade Show Displays
Superchrome based in London, UK has offices worldwide. We are a large format printing company and we provide all you need for trade shows and exhibitions, including furniture and display stands. We supply trade show displays to museums, shopping centres, retail centres, art galleries, individuals, advertising agencies, corporate and exhibition organisers. If you have a custom trade show display in mind, we can help design it, print and even install.
Banners for Trade Show Displays
We print and supply large format PVC banners for trade show displays. We use top quality standard banner 440gsm material. This is the cheapest way to advertise your brand, business name or event. They come with brass eyelets and hems or straight edges depending on your choice. Choose Foamex for exhibition panels in a range of sizes from 1mm, 3mm, 5mm, 10 and 20mm. Superchrome print directly onto Foamex and laminate for extra durability. Foamex can be used many times and lasts for up to ten years inside – ideal for trade show displays. Corex is a temporary solution that can be used for up to six months. Foamex is perfect for your artwork, business graphics or logo.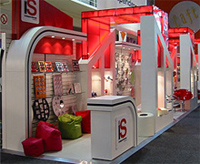 Trade Show Displays and Banner Stands
We supply banner stands for your PVC banners. Choose pole pockets to hang them on. We offer twist banner stands, pop up stands, modular exhibition displays, backdrop graphics printed on voile or heavy Trevira flame retardant polyester, or canvas. Don't forget to order backlits or lighting to ensure your trade show displays stand out and attract customers.
Our most popular range of high quality stands are called ChronoExpo. Ask to see our range.
Portable and Versatile Trade Show Displays
Banners and stands are highly portable, because they are lightweight. They are easy to fit in your vehicle and transport to your trade show displays. They are versatile and can be rolled or stacked, stored until they need to be reused. If you purchased as a one off exhibition, substrates such as Foamex and Corex can be recycled. We are an eco-friendly company.
Order your Trade Show Displays today
Our team of designers are ready to help you with your order.
Please contact Superchrome in any of the following ways:
Superchrome is waiting to cater for all your trade show displays needs.
CONTACT SUPPORT
Every file that you upload will be managed by an account representative to ensure that your
order receives the attention it needs.