Signs Banners
Welcome to Superchrome, the leading printing company and exhibition suppliers. Signs banners are ideal for use at exhibitions to direct customers to your stand or to the seminar room in the hotel. Use them outside to direct customers into the exhibition, trade show, seminar or sporting event. Use Superchrome signs whenever you need to direct people anywhere.
We print your signs banners on top quality substrates using the best UV inks that are eco-friendly and prevent fading in sunlight. Most substrates can be laminated to protect from fingerprints, rain, tearing, dirt and general deterioration of the graphics.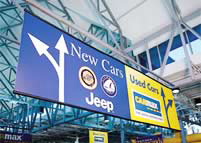 PVC Vinyl Signs Banners
PVC Vinyl signs banners are perfect for indoor and outdoor use. They are durable and waterproof. UV inks prevent your graphics from fading. They are cheap and extremely popular with our customers. We only use the best quality. Our standard outdoor banner is 440gsm PVC.
Mesh Signs Banners
Mesh signs banners are large format signs, designed to be hung on tall buildings in built up areas. They are for high wind areas. Wind passes through the mesh and protects the banner and the building from strain. Print your company name, graphics and directions on the mesh banner and it will be seen for miles! Our installation team will hang them safely for you.
Foamex Signs Banners
Foamex is the most popular signs banners for our customers. They are long lasting and can be used indoors for up to ten years and outdoors for up to one year. They can be printed on directly or we can print on self adhesive vinyl and apply. We will also laminate to ensure durability. They are popular for hoarding signs, directional usage and they can be hung anywhere.
Choose Corex for a short term solution. Corex lasts for six month outdoors.
Order your Signs Banners today
If you cannot see what you need here, then please contact us. We supply and source a wide range of substrates for many purposes. We love custom orders and can print large format and wide format sizes. Don't be afraid to call our friendly team at anytime of the day or night.
Please contact Superchrome in any of the following ways:
Thank you for visiting our website today. Superchrome is looking forward to printing your signs banners.
CONTACT SUPPORT
Every file that you upload will be managed by an account representative to ensure that your
order receives the attention it needs.