Self Adhesive Prints
Self adhesive prints are the quickest and most convenient way to display your company name and market your brand. They are Superchrome's most popular product, because they are low cost and versatile. Self adhesive prints are exactly what you need to get your brand name noticed.
Use them for exhibition signage, shop windows, car wraps, building wraps and wallpaper. They can be adhered to any smooth surface including glass doors, windows, brick walls and metal.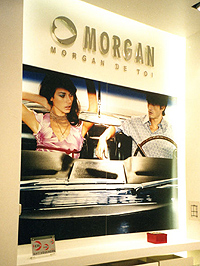 Cost Effective Self Adhesive Prints
Choose from permanent or temporary installations. The easy tack system allows you to peel off the self adhesive prints when you have finished with them. You can store and reuse multiple times. These are ideal for temporary signage, and a low cost way of displaying your brand at an exhibition or trade show.
Self Adhesive Prints Are Ideal For Window Displays
You can expect plenty of new customers to visit your business with our high quality, colourful self adhesive prints. Clear vinyl substrates are ideal for window and glass installations. They are popular for shop window displays, because they allow light inside and advertise your brand or products to customers outside.
Versatile One Way Vision Self Adhesive Prints From Superchrome
Choose contra vision for privacy and light. Contra vision is perforated vinyl, ideal for use as building wraps, shop window displays and car wraps. Display your advertising campaign in full view on the outside and keep your privacy on the inside.
Self Adhesive Prints for Hoardings
Your company graphics are printed on self adhesive vinyl and can be mounted onto a substrate of your choice to create fantastic hoardings. Choose from foamex, MDF, aluminium and many others. We can cover them with perspex to ensure long-term usage.
Use Superchrome's Installation Service for Self Adhesive Prints
We have a specialised team that can install the self adhesive prints for you. It can be difficult to apply yourself, especially if you have chosen large format self adhesive prints to cover a large area.
Order self adhesive prints today
Superchrome are happy to advise you on any aspect of your order. Give our team a call today.
Please contact Superchrome in any of the following ways:
Superchrome are ready and waiting to help you with your custom order.
CONTACT SUPPORT
Every file that you upload will be managed by an account representative to ensure that your
order receives the attention it needs.