Printed Canvas
Don't leave your photo in your laptop to be forgotten forever or put your old style photo negative in the loft to gather dust. Let Superchrome print it onto high quality canvas, so you can display it on your wall for all your friends and family to admire.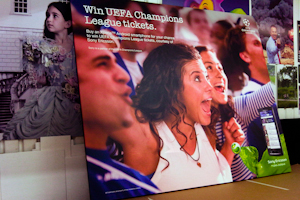 Our exhibition grade cotton canvas is thicker than many of our competitors. Choose the best quality with Superchrome.
We print from digital camera photo, negatives, slides and even print from your original art. Prices start from only £30!
Printed Canvas for Artists
Many of our returning customers are artists who regularly order canvas prints. It is an excellent source of income as prints from an original piece of art are so popular. They often tell Superchrome that their customers find it impossible to tell the difference between the original artwork and the prints. That's all down to our fantastic quality HP printer. Artists often order in bulk. A first edition print run of ten, a second edition of twenty, a third edition of thirty prints and so on. They think our discount is superb. It starts when four prints are ordered and increases when ten are ordered. Artists love the range of sizes available.
A Wide Choice of Printed Canvas Quality Finishes
Choose from water resistant printed canvas, coated cotton, fast dry matte or gloss. We can frame your canvas to save you time, but if you only want mounted let us know.
Create a Unique Printed Canvas Gift for Your Family and Friends
Be creative and design a fantastic and unique gift for your family and friends. We can write a special message on the canvas for no extra charge! This is ideal for birthdays, Christmas, wedding gifts, or any special occasion - or even just to say thank you. Don't forget the discount if you order in multiples of four or ten.
Enjoy our fast delivery. Expect your printed canvas to arrive at your doorstep within 48 to 72 hours.
Order Your Printed Canvas From Superchrome Today
Are you ready to order? All you have to do is upload your design to our website. Each file will be expertly managed by a skilled representative to ensure that your order receives the attention it needs.
Or you can email your requirements to sales@superchrome.co.uk, or phone: 0870 242 1761, 020 7237 9333.
We look forward to hearing from you.
CONTACT SUPPORT
Every file that you upload will be managed by an account representative to ensure that your
order receives the attention it needs.