Pop Up Displays
If you are looking for a pop up display for your road show, exhibition, trade event or business seminar you have come to the right place. Superchrome is a leading manufacturer and supplier of pop up displays. Choose from our fantastic range and promote your corporate or small business brand with style. Our high quality, versatile displays are perfect for your needs and are the most professional and low cost way to show off your brand.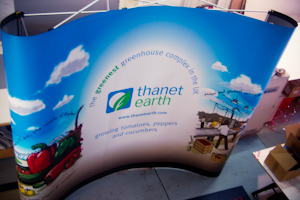 Portable and Light Weight Pop Up Displays
Our pop up displays are lightweight and portable to make your life easier and reduce transportation costs. They are quick and simple to assemble and install. They are easy to transport to your event and handy to store until your next exhibition. You can choose from curved, straight or L-shaped and they come in all sizes.
Fabric or Modular Pop Up Displays
We provide fabric or modular pop up displays. Our modular displays come with a range of accessories such as halogen lighting, shelving and are fully magnetic. Our robust fabric displays have Velcro friendly panels to allow for a fast graphic change. These are ideal for seminars when you need to change your message.
Floor or Table Top Pop Up Displays
Do you want a floor display or a tabletop display? We provide both types of pop up displays. The possibilities are endless with Superchrome.
Pop Up Display Graphics or Company Logo
Do you need graphics or your company logo printed? We use the latest printing technology and the finest inks to create vivid colours that make your display shine. Let us help you stand out from the crowd. Our pop up displays can even be used outdoors with our anti fade, weatherproof graphics.
Are your old graphics looking tired? We can print replacements for you.
All our displays are provided with cases.
We have an amazing variety of options so you can create an outstanding three-dimensional display to your own specifications. We want your company brand to stand out and be noticed. Our team of talented designers are here to help you design and customise your pop up displays. We offer our professional design service free of charge to our customers.
Order Your Pop Up Displays From Superchrome Today
Are you ready to order or would you like more information?
Email your requirements to sales@superchrome.co.uk, or phone: 020 7237 9333.
We look forward to helping you with your order.
CONTACT SUPPORT
Every file that you upload will be managed by an account representative to ensure that your
order receives the attention it needs.