Pop Displays
If you are looking for a point of purchase display, then you have come to the right place. Superchrome design and manufacture top quality pop displays to help attract customers into your business. Our robust displays are made from the finest materials and are guaranteed to last.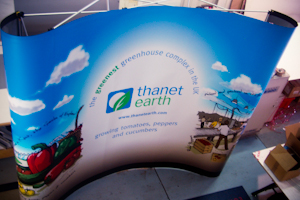 Create a great impression with Superchrome displays. They are ideal for advertising your product. Place them in high traffic areas and watch profits soar.
Add company or brand graphics to your display and watch the customers stop and stare. You are assured of attracting new customers to your business.
Pop Displays for Your Exhibition
Are you planning an exhibition or seminar? Use our displays to attract people to your stand and make them aware of your brand, your product promotion and any special offers.
Choose from floor or table displays and pop up displays for that easy to transport display stand. Our pop displays can be used outdoors with anti fade, weatherproof graphics.
Customise Pop Displays
It is easy to customise your pop displays. Choose from a range of sizes and models. We supply 3 x 3 and 3 x 4 fabric or modular displays with lighting, illuminated ends, and shelving. Hang graphics with ease - all displays have Velcro attachments or are fully magnetic.
Add literature racks, display cases and other accessories.
Add Graphics to Your Pop Displays
Superchrome use the latest large format digital print technology and the best quality inks. You can expect your company graphics to burst out of your pop displays with our bright colours. We can add your company logo, product images and company branding or reprint your existing graphics to make them fresh and bright again.
We have a large variety of options so you can create, change and extend an amazing three-dimensional display to your own specifications. We want your company brand to be noticed. We also print banners, posters and can cater for all your exhibition stand needs.
Our team of talented designers are here to help you design and customise your pop displays. We offer our professional design service free of charge to our customers.
Order Your Pop Displays Today
Are you ready to order or would you like more information?
Please contact Superchrome in any of the following ways:
Superchrome is ready to pop your displays in the post.
CONTACT SUPPORT
Every file that you upload will be managed by an account representative to ensure that your
order receives the attention it needs.