Point Of Sale Displays
Many years ago, customers walked past retail shops and exhibition stands as if they were invisible. Some important customers even walked through them, yet did not buy anything. One such customer stopped, scratched his head and frowned. What was that grey box he had bumped into? He was sure there had been nothing there. The gold chinked in his pocket and he wished he could find some colour in his world or a new item to purchase. Then, along came Superchrome with a brand new point of sale display!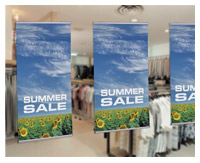 Superchrome Zapped Colour into the Point Of Sale Displays
Superchrome worked their magic and zapped colour into the point of sale displays. Customers made a beeline for them. The retail shops and exhibition displays sprung into life. They were bright and attractive and the customers were mesmerised. They were pulled into the shop or stand as if by a magnet. They grabbed leaflets; they needed to know more about the special offer or the shining new brand. Superchrome had saved the day again.
Superchrome Design and Manufacture Top Quality Point of Sale Displays
Superchrome design and manufacture top quality point of sale displays to help attract customers into your business. Are you planning an exhibition? Use our displays to attract people to your stand and make them aware of your brand, your product promotion and your special offers. Our point of sale displays are used worldwide in retail, hotels, airports and exhibitions. We are the industry leaders in all your exhibition and retail needs.
Buy Point Of Sale Displays That Cannot Be Ignored
Superchrome offer shop fittings, point of purchase signs, decals, labels, posters, banners, stickers and more. We have a range of colours and designs and our point of sale displays come in horizontal or vertical layouts.
Our high quality point of sale displays will boost your retail business. Don't be invisible.
Stunning Graphics for Your Point Of Sale Displays
We use the latest printing technology and the finest inks to create vivid colours for your business graphics. We can add your company logo, product images and company branding or reprint your existing graphics. Dazzle your customers with our colours.
Order Your Point Of Sale Displays Today
Are you ready to order or would you like more information?
Please contact Superchrome in any of the following ways:
Superchrome is ready to zap magic into your order.
CONTACT SUPPORT
Every file that you upload will be managed by an account representative to ensure that your
order receives the attention it needs.