Nomadic Displays
Nomadic people are busy and never stay in one place for very long. There are different types of nomads, the hunter-gatherers, who search for fruit and berries or hunt for meat, the pastoral kind who graze sheep or goats and move on when the patch of land becomes bare, and the modern kind who travel to lots of seminars and exhibitions in order to gain new custom. This modern species like to use nomadic displays, because they are lightweight, portable and robust. They even come with a case and fit into a car! They can be used over and over again.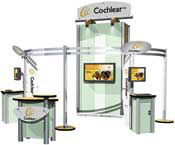 Roam the world with Superchrome's nomadic displays and attract new business on the way.
Get Your Message Across With Nomadic Displays
Superchrome design and manufacture top quality nomadic displays to help attract customers into your business. They are ideal for use in exhibitions, seminars, and trade shows. Our displays attract people to your stand and make them aware of your brand, your product promotion and your special offers. Our nomadic displays are used worldwide in retail, hotels, airports and exhibitions. We are the industry leaders in all your exhibition and retail needs.
Buy Nomadic Displays That Stand Out From the Rest
Superchrome's high quality nomadic displays are guaranteed to boost your business. We provide a wide range of robust displays that include pop up for that extra portability, tabletop or floor standing, fully extendable modular and fabric. They all come with a free case. There are further options available such as shelving, halogen lighting, and changeable graphics. Your brand will stand out from the rest.
We provide further products for your exhibitions, such as PVC banners, large format posters and leaflets.
Stunning Graphics For Your Nomadic Displays
We use the latest printing technology and the finest inks to create vivid colours for your business graphics. We can add your company logo, product images and company branding or reprint your existing graphics. Don't settle for second best – choose Superchrome's nomadic displays!
Order Your Nomadic Display Today
Are you ready to order or would you like more information? Our team of experts is ready to help customise your order today.
Please contact Superchrome in any of the following ways:
Superchrome is ready to help you on your way.
CONTACT SUPPORT
Every file that you upload will be managed by an account representative to ensure that your
order receives the attention it needs.