Mounted Prints
Superchrome offer a range of professional finishing services for your large format printing. Mounted prints will enhance the look of your artwork, print or photograph and add a focal point to your hotel, office, conference room or even your home. Hang them anywhere. You will be impressed with our fine quality printing and dazzled with the bright, long lasting colours. We use the latest HP printing technologies and the best quality eco-friendly UV and latex inks to ensure your mounted prints will last a very long time.
Cost Effective Mounted Prints
Images can be printed on graphic paper, fine art paper, self adhesive vinyl and photo paper and then mounted onto a rigid substrate. Superchrome's most popular and cost effective substrate for mounted prints is foamex. Foamex is a strong board substrate that is very economical and long lasting. It is also used for exhibition panels and is available in a range of thicknesses and large format sizes. Contact us for sizing details.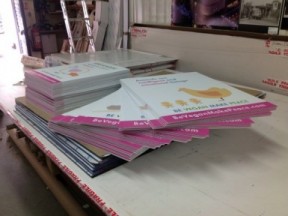 Mounted prints can be laminated to protect them from greasy fingerprints and fading or sandwiched between acrylic or clear Perspex. This makes the image stand out from the wall in a three dimensional effect. Prints can be mounted on wood and aluminium composite if you prefer this option.
Acrylic Mounted Prints
We can mount your print directly onto acrylic. This is a popular choice if you like a modern look in your home or office. We can mount the print onto the front piece of acrylic or the back. It's your choice.
Backlit Mounted Prints
Why not print your artwork onto Duratrans, which is a transparent substrate and mount it in a light box? There are so many options available for mounted prints that we offer a design and customisation service to help you choose the right product for you.
Mounted Prints are ready to hang
Superchrome offers a range of hanging options for your finished mounted prints.
Order your mounted prints today
Superchrome is ready to take your order. We offer a free consultation service with our specialist design team to help you choose the best options for your printing.
Please contact Superchrome in any of the following ways:
Superchrome is waiting to mount your prints. Thank you for visiting our website today.
CONTACT SUPPORT
Every file that you upload will be managed by an account representative to ensure that your
order receives the attention it needs.