Modular Display Stands
Superchrome is the leading large format printing company and the number one exhibition suppliers. We supply a range of products to help your trade show or exhibition run as smoothly as possible. All our products are the highest quality and we aim to be eco-friendly.
One of our favourite products is modular display stands.
Why Do I Need Modular Display Stands?
If you are planning a trade show or exhibition, you will need a stand for your display. A modular display stand is a system that allows you to display multiple exhibition panels in a variety of sizes and layouts. The stand is a structure that links together all the panels and supports them. The stand can be easily taken apart and stored.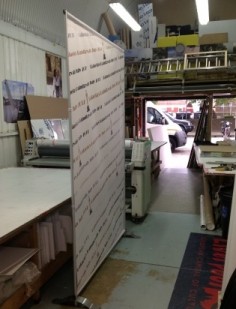 Our stands are fully customisable and can be configured in any way to meet your needs. The ChronoExpo range of stands are the best sellers. We supply banner stands, mast stands, pop up stands, literature stands and the Chronopop, a self locking, curved frame that is available in a single sided configuration and comes in large or small sizes. All our stands come with a free carry case and optional spot lighting. We even supply exhibition furniture.
Superchrome Supply Top Quality Display Panels for Modular Display Stands
Foamex is a popular substrate for modular displays as it is rigid, cost effective and graphics can be printed directly onto it. It is a light substrate and highly portable and can be recycled or stored after use. We also supply fabric displays with magnetic options or Velcro options.
Modular Display Stands Need Fantastic Graphics
We can print your business graphics onto archival paper, photographic paper, graphic paper, canvas and self adhesive substrate. If you need a roll up banner we can print your business logo on that too.
Modular Display Stands Can Be Customised
Our team of design specialists are available 24/7 to help you customise your project and to ensure a fast turnaround from order to delivery. We will meet any deadline.
Order Modular Display Stands Today
Thank you for visiting Superchrome's website. We look forward to helping you design your project. Don't forget that quotes are free and we are available at any hour of the day and night.
Please contact Superchrome in any of the following ways:
Superchrome is waiting to build your modular display stands.
CONTACT SUPPORT
Every file that you upload will be managed by an account representative to ensure that your
order receives the attention it needs.