modern print canvas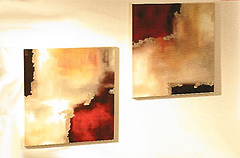 Superchrome, the leading provider of digital printing and imaging solutions is offering modern print canvas service to our clients.
Modern print canvas is becoming more and more popular in the market. It can be used for home and business interior decorations because of its magical ability to catch the attraction of your guests, customers, clients and others.
Large modern print canvas is the perfect choice for furnishing in hotels, bars, banks, offices and other commercial places too. Modern print canvas is also suitable as housewarming or wedding presents.
Superchrome produces good quality modern print canvas. We have our own unique combination of printing techniques which help us to offer high clarity printed artworks. We have years of experience in producing modern print canvas from an existing print, a film negative, an original artwork, a digital camera photo, or a slide. Our state of the art technology used in the different stages of production gives very good print quality. We can also transform your fine art reproductions, abstract art, original art, original paintings and color or black and white photos into very beautiful modern print canvas at very competitive and affordable rates in a wide range of sizes.

Printed on Canvas + Seal
Plus Design: £95
Discount Prices
Canvas Prints
x1
x4
x10
A2: 420x594mm, 16.5x23.5"
£ 48
£ 154
£ 296
A1: 594x841mm, 23.5x33.25"
£ 65
£ 214
£382
A0: 841x1189mm, 33.2x46.8"
£ 74
£ 235
£ 441
2A0: 1189x1682mm, 46.8x66.4"
£ 144
£ 488
£ 1080
20x30", 508x762mm
£ 68
£ 218
£ 380
30x40", 762x1016mm
£ 76
£ 239
£ 451
60x40", 1016x1524mm
£ 85
£ 265
£ 518
Canvas Prints Stretched (Frames)
x1
x4
x10
2A0 (1189 x 1682)
£ 288
£ 976
£ 2160
AO (841 x 1189)
£ 145
£ 492
£ 1090
A1 (594 x 841)
£ 98
£ 336
£ 780
A2 (420 x 594)
£ 75
£ 252
£ 600
A3 (297 x 420)
£ 55
£ 192
£ 440
A4 (210 x 297)
£ 30
£ 104
£ 230
Here, at Superchrome, you can get your modern print canvas on a wide range of canvas material from water resistant to fast dry glossy canvas, fast dry matte canvas, coated cotton canvas, and many more in either light or heavy versions. We are also using advanced HP, Encad and Epson printers with high quality ultra Violet resistant ink which are fade resistant for your modern print canvas.
We also have well informed and experienced team of designers who can satisfy all your modern print canvas requirements. If you would like to know more about them, please feel free to call 020 7237 9333 or Email: sales@superchrome.co.uk
CONTACT SUPPORT
Every file that you upload will
be managed by an account
representative to ensure that
your order receives the
attention it needs.