Mesh Banners
Take your advertising to new heights with Superchrome, the leading large format exhibition and banner suppliers.
Banners are the perfect solution for cost effective advertising. Promote your brand and business name using bright, colourful images on high quality mesh banners.
Are you running out of space? Why not utilise the outside of your building to maximum effect and create a new advertising area that will get your business noticed. If your building is tall and based in a central city area, mesh banners are the best solution for your company.
Mesh Banners Are Printed With Durable Inks
Superchrome will print your business graphics and logo on your company banners using top of the range HP Designjet printers. We use the latest technologies and eco-friendly UV or latex inks to create the most vivid colours that will last as long as your outdoor banners. Our fine quality printed mesh banners will turn potential customers' heads.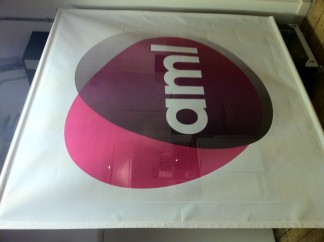 Mesh Banners Increase Knowledge of Your Brand
Size is no limit for Superchrome. Mesh banners can be two or three metres or we can weld multiple banners together to create a huge banner that will be seen for even more miles. For example, we can join four ten metre by ten metre banners together. Imagine the possibilities! Thousands of potential customers in vehicles or on foot will see your message from great distances. This will increase knowledge of your brand and you will gain more sales.
Versatile Mesh Banners
Mesh banners are perforated, which enables wind to pass through them and reduces strain on the banner and the building. They are made to withstand high winds and are the advertising media designed to hang on your office building. People inside the building can still see outside.
Banners can be hemmed or the edges left straight. Top quality brass eyelets are added for hanging. Superchrome will finish them to your specifications.
Do Not Worry! We Install Your Mesh Banners
Our expert team of installers will do all the installation work for you safely.
Order Your Mesh Banners Today
Superchrome can help if you have a custom design in mind. We love helping our customers achieve their goals.
Please contact Superchrome in any of the following ways:
Superchrome is waiting to deliver your stunning mesh banners.
CONTACT SUPPORT
Every file that you upload will be managed by an account representative to ensure that your
order receives the attention it needs.