Large Format Canvas Printing
Large Format Canvas Printing
Superchrome's large format canvas printing is perfect for your artwork. We supply to exhibitions, art galleries, artists, interior home designers and people who just love art worldwide! We cater for bulk orders. Let Superchrome print your digital image onto high quality canvas, so you can display it on your wall for all your friends and family to admire. Calling all artists! We can bulk print copies of your original at a fantastic price. Our canvas prints are ideal for galleries and art exhibitions. Our quality printing process ensures your large format canvas printing is professional and close to the original.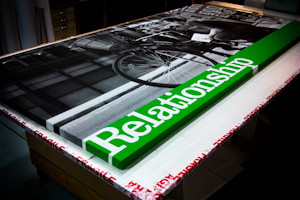 High Quality Large Format Canvas Printing
We use the latest HP printing technology and durable pigmentation inks to ensure your prints are gallery quality.
We will print your photo or artwork onto light or heavy 100% cotton canvas. We leave the choice up to you. This is the highest quality, exhibition grade canvas available.
Large Format Canvas Printing For Artists
Our large format canvas printing will colour match your original artwork or photograph. Your prints will match tone, density and the vibrant colour system of your original.
A Wide Choice of Large Format Canvas Printing Quality Finishes
Large format canvas printing means large! We print your artwork or photographs from A4 to A0 and a range of custom sizes. There are different options to choose. Would you like your photo to cover the whole canvas or would you prefer a border? We can add any colour border or go modern and choose a monochrome border - all included in the price. We will stretch your canvas if requested and provide a framing service.
To protect and enhance your unframed canvas we recommend a spray coating. This will protect it from oil, dirt, indoor lighting and sunlight. We can spray your canvas with a water-based coating in gloss, satin or matte.
You will not have to wait very long to receive your quality canvas. We deliver within 72 hours or less.
Order Your Large Format Canvas Printing From Superchrome Today
Are you ready to order large format canvas printing or are you spoilt for choice? Would you like more information? We are here to help you customise your order.
Please contact Superchrome in any of the following ways:
Superchrome is waiting to print your high quality canvas.
CONTACT SUPPORT
Every file that you upload will be managed by an account representative to ensure that your
order receives the attention it needs.