Inkjet Printing
Welcome to Superchrome. We are the leading large format inkjet printing company, based in London with offices all over the globe. We supply everything you need for exhibitions, retail business signage, museum displays and art galleries. We offer high quality digital printing from A4 to huge, provide banner stands, exhibition display boards, banners and more. We strive to be an eco-friendly company and many of our products, such as Foamex, can be recycled.
Inkjet Printing with the best technology can offer
We have a bank of HP Designjet 550's, HP Designjet 26500's and Océ large format printers for extra fine printing using latex inks. We use the best quality UV inks, latex inks and eco-solvent inks to print stunning and vivid colours in an environmentally friendly way.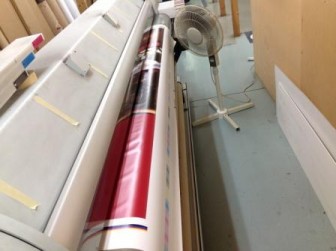 Ensure Your Business Graphics Stand Out With Stunning Inkjet Printing
Use inkjet printing to make your business graphics stand out from the rest. With such vivid, long lasting colours your poster, banners, exhibition displays, information boards, indoor and outdoor signage will attract customers to your brand. They will never forget your business name when you use Superchrome for your inkjet printing.
Inkjet Printing on a Variety of Substrates
Superchrome prints on a variety of substrates including all grades of canvas. We often print fine art onto heavy weight artist canvas for auction houses and museums with stunning results due to our detailed inkjet printing and specialist colour matching skills.
We print onto all types of graphic paper, photographic paper, roller banner material, vinyl wallpapers, self-adhesive vinyl, building wraps and mesh, PVC Banners, Duratrans film, floor graphics and silver and gold film. Due to the high quality materials and inks used, our inkjet printing is the highest quality.
Order your Inkjet Printing today
All you have to do is upload your artwork to our website using the quick and easy to fill in form and we will print onto your choice of substrate. We are always happy to help you with your order, especially if you want to order something a bit different. Our design team specialise in customising your order and we can source most materials.
Please contact Superchrome in any of the following ways:
Superchrome is waiting to amaze you with the quality of our Inkjet Printing. Thank you for visiting us today.
CONTACT SUPPORT
Every file that you upload will be managed by an account representative to ensure that your
order receives the attention it needs.