Indoor Signage
Superchrome, the leading large format signage printers and exhibition suppliers, offer a wide range of indoor signage to suit your needs. Indoor signage can be made to any size depending on your choice of material. It is easy to order with Superchrome. Just upload your business graphics or artwork to our website and we will do the rest.
All Types Of Indoor Signage Are Available To Order
Indoor signage has a variety of uses such as directing customers around your retail business, museum, gallery, school or company building. Information boards are often displayed in museums and shopping centres. Exhibition stands can be effectively labelled with your business name, advertising your brand and current promotions.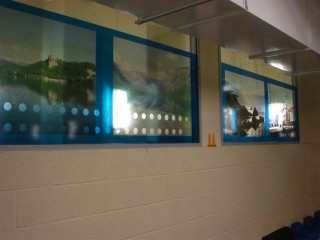 We create signage to your specifications. Choose from lettering, banners, signs, posters, information boards and interior window displays.
A Variety of Substrates for Indoor Signage
We print your graphics onto a variety of substrates. We use vinyl for lettering, PVC or canvas for banners and backdrops, duratrans and light boxes to backlight your indoor signage. Large format posters can be printed on blue backed paper, graphic paper and photographic paper.
Indoor Signage Finishing Services
We offer finishing services such as lamination to most substrates. Laminate gives extra durability and protects graphic paper from tearing.
We can adhere your indoor signage to Foamex. Foamex is a smooth surfaced, rigid board that can last up to ten years indoors. Corex is a similar concept to Foamex, but it is much cheaper. The core is made of corrugated plastic. It is a very cheap, short-term solution and does not scratch. We can front mount or back mount your prints and sandwich between acrylic to make an attractive image with a three-dimensional look.
We have a stand for your Indoor Signage
Indoor signage can be hung, put on the wall or used in a stand. If choosing PVC banners we hem them and add brass eyelets for hanging or pole pockets for stands. Foamex can be attached to the wall, used in a modular exhibition stand, or an individual Chronoexpo stand.
Order your Indoor Signage today
Thank you for visiting Superchrome today. We look forward to helping you with your order.
Please contact Superchrome in any of the following ways:
Superchrome is waiting to print your Indoor Signage.
CONTACT SUPPORT
Every file that you upload will be managed by an account representative to ensure that your
order receives the attention it needs.