Full Colour Banners
Choose from a huge variety of full colour banners with Superchrome. We are large format printing experts who cater for all types of businesses including art galleries, exhibitions and advertising agencies. We print banners using the top of the range HP printers and always use the best quality inks and materials.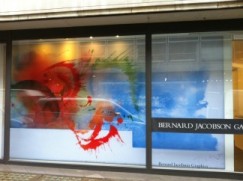 Superchrome's bright, vivid inks make your banner stand out above the rest. Beat your competitors with striking full colour banners. Ensure your logo and business name stick in your customers mind when you are one of many exhibitors. Banners are ideal to direct customers to your building or exhibition too.
Full Colour Banners Make Your Business Stand Out From the Rest
Banners are perfect to make your business stand out. Choose from large format banners to drape from your building, easy roll banners, pop up banners, PVC and mesh banners and many more. We can digitally print your company logo and your choice of graphics onto each banner. All you need to do is upload your artwork to our website. We aim to make planning your exhibition easy. Choose any width and height for your banner. We have a huge array of colours and fonts. Decide on a colour background and the size of the text. We are here to help you customise your banner today.
Full colour banners can be as tall and wide as you need.
Cost Effective Full Colour Banners
Superchrome's banners are extra strong and waterproof. They are designed to be displayed outdoors or inside – the colours will not fade. We guarantee our banners can be used multiple times. They are a cost effective business solution. Choose full colour banners for the brightest, most vivid colours. They are the best way to get your business noticed. Customise your banner with a choice of lighting or put multiple banners together. We will even hang your banner for you.
We Have A Stand for Your Full Colour Banners
Choose from our wide range of banner stands to compliment your full colour banners.
Order Your Full Colour Banners Today
Upload your artwork free of charge. If you wish to order multiple items or customise your order, we are ready to help.
Please contact Superchrome in any of the following ways:
Superchrome is waiting to fly your full colour banners.
CONTACT SUPPORT
Every file that you upload will be managed by an account representative to ensure that your
order receives the attention it needs.