Frosted Vinyl
Superchrome supply exhibition displays and are the leading large format printing company in the UK and worldwide.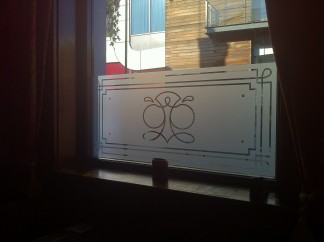 Frosted vinyl windows displays are a superb addition to your shop front or business. They look professional and add privacy.
Make your office or shop front look attractive by adding your own logo, lettering and design to your window. Frosted vinyl can help to sell your products and will make your business name memorable to customers. Your shop or office will stand out from the rest.
Frosted Vinyl Happy Customers
Superchrome's past customers include Thomas Goode, based in London. Frosted vinyl banners were hung in the shop windows of the South Audley based store, where sunlight really made them shine and attract passers-by.
We installed ten-metre wall graphics at The Tate Gallery's Atranspennine exhibition in Liverpool. The wall graphics were transparent vinyl banners made from a mixture of acetate, fibreglass, frosted vinyl and tracing paper.
Frosted Vinyl is cost effective and can even save your furniture
Frosted vinyl makes your window look like it has been etched, but it is easier to have designs that are more intricate such as flowers, swirls, italic lettering and your own design. It looks better, because you can choose elaborate digitally printed designs. It's a smart, cost effective, contemporary way of window dressing. You will not need to change your window glass when you need to change your design – for example if your phone number changes.
Another benefit of frosted vinyl is it can block out over 95% of UV light which can protect expensive furniture and fabrics against fading in sunlight. 70% of natural light will still filter through the vinyl.
Frosted vinyl is ideal for coffee shops, cafes and offices. It can be applied inside and outdoors on any glass surfaces, even doors. Most products have an outdoor life of five years.
We offer a professional installation service to ensure your window display looks perfect.
Order your Frosted Vinyl today
Call us today to discuss your requirements. We have a team of specialist designers waiting to help you with designing your window displays and we specialise in custom orders.
Please contact Superchrome in any of the following ways:
Thank you for visiting our website. Superchrome is waiting to help you with your order.
CONTACT SUPPORT
Every file that you upload will be managed by an account representative to ensure that your
order receives the attention it needs.