Foamex
Superchrome is a leading large format printing company, supplier and manufacturer of everything you will ever need for an exhibition, seminar or trade show.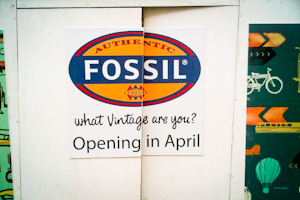 Foamex is a popular choice for exhibition display boards, hoardings and mounted prints and photographs. It is our best selling product. It is strong, durable, hard wearing and a cost effective solution for all types of business and home uses.
We use eco-friendly UV and Latex inks to print fine detailed, vivid colours onto your choice of substrate and then we add the finishing touches such as laminate, front or back mounted acrylic and lighting.
Superchrome is famous for Foamex
Did you know Superchrome's top quality Foamex panels have been on television? We were commissioned by Endemol UK to print panels for the popular TV show, Supersize vs Superskinny. We printed a different set of wall panels for the show each week.
Images can be printed straight onto Foamex and easily hung on the wall, mounted as exhibition display panels, placed on exhibition stands, poles or in frames. It is a lightweight, portable substrate, which makes it simple to transport in your vehicle and carry to exhibitions.
If you are planning to order large format, we offer an installation and hanging service.
Foamex Is Durable and Eco-Friendly
Foamex is so durable that it lasts one year outside and ten years inside. It is waterproof and is ideal for short-term outdoor usage such as hoardings or advertising. If you are looking for a longer term outdoor hoarding, we also supply aluminium composite substrate.
Foamex is versatile. Its flexible smooth surface can be directly printed on or self adhesive prints can be mounted. It is long lasting and low maintenance. It can be laminated, framed and put behind acrylic to protect the print and ensure it lasts longer.
And even better it can be recycled when you have finished with it.
Foamex Makes Your Business Stand Out From the Rest
Foamex comes in a range of thicknesses starting from 1mm, 3mm, 5mm, 10mm, and up to 20mm.
Order your Foamex today
Please email or phone us to discuss your order. We have a team of designers who are waiting to help customise your project.
Please contact Superchrome in any of the following ways:
Superchrome is waiting to create amazing prints.
CONTACT SUPPORT
Every file that you upload will be managed by an account representative to ensure that your
order receives the attention it needs.