Floor Graphics
Have you ran out of advertising space? Do you need ideas? Why not utilise your floor space? Customers look at the floor more than you realise and floor graphics are a good way to get their attention with bright images and snappy wording.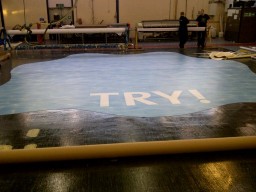 Superchrome uses the latest technologies in large format printing. We print using HP Design jet printers and UV, eco-solvent and latex inks, depending on your requirements. The finished product is full of detail and the colours look vivid.
Floor Graphics Are Versatile
They can be used for advertising, directional signage, current promotions, or simply to add an interesting picture or logo to your floor. They can be displayed inside and outside. They are ideal for advertising on public steps, such as train station entrances and exits, in retail stores and exhibitions. Choose directional floor decals to guide your customers in the right direction – they can even look like footprints.
Choose from Temporary or Permanent Floor Graphics
Superchrome design and print temporary and permanent floor graphics. Three meter graphics can be installed on all floor types. Permanent decals last up to ten years and temporary last for two to three years and can be peeled off and replaced.
Floor graphics are printed on high quality 3M self-adhesive durable vinyl and are ideal in high traffic areas like hospitals, airports, museums, retail shops and offices.
A Choice of Durable Floor Graphics
There are two types of floor graphics available; interior and exterior. Superchrome's interior film is ideal for short-term promotions, especially exhibitions and seminars and is easy to remove when the exhibition has ended. Exterior graphics can be applied to pavements. We print graphics on 3M self-adhesive vinyl and laminate to ensure durability and protection from floor cleaning products, UV light, rain and foot fall. Floor graphics are anti slip and resistant to scratching.
It is easy to order floor graphics with Superchrome. Upload your artwork to our website, fill in the form and we will do the rest.
Order your Floor Graphics today
Our team of experts are waiting to discuss your order. We have a team of graphic designers who can help with designing your graphics. Thank you for visiting us today.
Please contact Superchrome in any of the following ways:
Superchrome is waiting to cover your floors with anti slip graphics.
CONTACT SUPPORT
Every file that you upload will be managed by an account representative to ensure that your
order receives the attention it needs.