Flag Banners
Fly the flag with Superchrome, the leading exhibition suppliers in the UK. Based in London, we are the major supplier of flag banners to exhibitions, trade shows and sporting events, worldwide. Our customers include retail stores, art galleries, museums and advertising companies. We work alongside our customers in order to produce exactly what they need - no job is too big or small for Superchrome. We specialise in providing a tailor made service for each customer and we really enjoy a challenge.
Flag Banners Make Your Business Stand Out From the Rest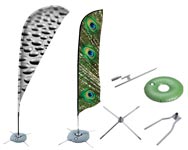 Flag banners are perfect for advertising and great to get your brand noticed. They are also popular for festivals, sporting events, weddings and birthdays! We print stunning, vivid, full colour graphics or artwork onto your banner using high quality, digital HP printing technologies and specialist UV inks so that your banner will last, whether it is displayed indoors or outdoors. Superchrome's professional printing style will really get your company or brand noticed!
Superchrome Prints Your Flag Banner on a Choice of Substrates
Choose from long lasting PVC and vinyl, or choose short term reinforced paper or fabric. Mesh is another durable substrate. It is perforated material, designed to enable the wind to blow through it. Mesh puts less strain on the flag to ensure it lasts even longer. Mesh flag banners are ideal for high wind areas and long term use.
Choose which type of flag you need. We supply beach flags in all sizes. These are also known as feather flags or flying banners. A choice of pop up flag banners, lanterns or teardrop flags are available. They come in all sizes and shapes.
We Have a Base For Your Flag Banners
All our flag banners come with a base of your choice, choose from spikes, fixing poles and indoor or outdoor base stations or we can hang your banner for you. Please call us for details.
Superchrome has a specialist installation and removal service to make your life so much easier.
Order Your Flag Banners Today
We enjoy helping to customise any project and we are always available to help you with your graphics. We look forward to hearing from you.
Please contact Superchrome in any of the following ways:
Superchrome is waiting to fly your flag banners.
CONTACT SUPPORT
Every file that you upload will be managed by an account representative to ensure that your
order receives the attention it needs.