Exhibition panels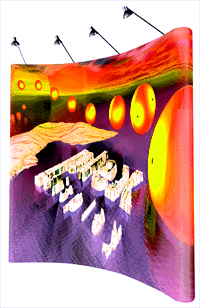 Superchrome has exhibition panels with a lot of accessories and panel options to meet your requirements and they create an out of the world look for your exhibitions. A wide variety of materials and color options can be chosen. Your entire exhibition needs and more can be shopped at Superchrome.

Superchrome's exhibition panels are all easy to set up units which have trouble free frame designs which last longer. They are displayed as curved walls, straight walls, triangular towers/kiosks, or as three separate single-unit displays. Even wider displays or other shapes can be connected to the display units. No tools are required for the setting up or dismantling of the exhibition panels.

Light weight cases with rotational wheels are supplied to hold the entire exhibition panels and this increases the portability and durability of our products. Our exhibition panels are elegant and durable with strong frame designs to ensure years of service. Superchrome also sees to it that our products are eco-friendly structures.
Exhibition panels from Superchrome shows you different ideas to enhance your trade show displays and trade show booths. Our frame designs and graphics support will be there to make your products reach the audience and they are affordable too. Our creative experts will help you overtake your competitors with excellent exhibition graphics and designs giving effective and cost-efficient printing support.

We cater for exhibition panels to suit your needs. Turnaround time is minimal and quality fantastic. Your ideas and suggestions are taken into consideration to mould your own exhibition panels. Contact us, if you are interested. For more details about exhibition panels, call 020 7237 9333 or fax 0207 237 9444 or email sales@superchrome.co.uk

CONTACT SUPPORT
Every file that you upload will be managed by an account representative to ensure that your
order receives the attention it needs.