Digital Image Printing
It is time to print out your photos! Superchrome is a large format digital printing company based in central London. We have offices worldwide and customers from all countries. We set up imaginative exhibition displays, print huge images on canvas backdrops, on all types of substrates and install them at trade shows and exhibitions worldwide.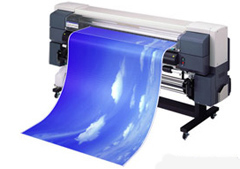 We cater for everyone! So, whether you are a small business looking for digital image printing or an individual looking for a gift for friends and family, Superchrome are the high quality digital image printing experts for you.
We have the Ingredients for Digital Image Printing
Be smart and use Superchrome for all your digital image printing needs. We use the latest technologies to print your images straight from computer to printer. Digital printing is the smartest way to show off your artwork. Your digital image, our HP large and wide format printers, graphic designers, a variety of quality substrates and Superchrome's expertise are all the ingredients you need to create a stunning visual image.
Digital Image Printing with Superchrome
Digital image printing creates the most beautiful and fine detailed prints from your camera shots. Canvas prints are a popular choice for digital image printing. Choose from matte and gloss, spray varnish finishes and stretched or unstretched. We provide a choice of canvas grades that are 100% cotton. If you are an artist or need a fine art print for your museum display, we will print onto the best quality heavy weight artist canvas in super fine detail. Our team of graphic designers are experts in specialist colour matching.
We also print onto photographic papers in gloss or matte. Straight onto Foamex for exhibitions and signage, poster digital image printing, and PVC banners. All prints can be laminated to protect from fingerprints and dust. Our UV eco-friendly inks are the best in the business and prevent fading.
Superchrome guarantees you will be pleased with the results.
Order Digital Image Printing today
Thank you for visiting Superchrome today. We look forward to helping you with your order and helping you make the correct choice of substrate for your print.
If you have any questions, please contact Superchrome in any of the following ways:
Superchrome is waiting to send your digital image printing within 48 hours.
CONTACT SUPPORT
Every file that you upload will be managed by an account representative to ensure that your
order receives the attention it needs.