Contemporary Canvas Print
Contemporary Canvas Print
It is time to transform those blank walls! Instead of wallpapering, choose a contemporary canvas print to create a fantastic finishing touch for your home or office. Design your own print, choose your own colours, and then stand back and admire it. Select your own photograph, slide or jpeg and print your own image onto canvas to make a contemporary canvas print.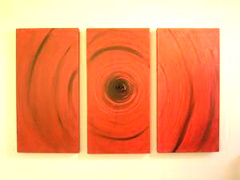 Superchrome is a leading large format printers and exhibition suppliers. Our customers are often interior designers, artists, photographers, individuals, small businesses, corporations, retail, exhibitions, art galleries, museums and advertising agencies.
Choose Superchrome for top quality, durable and contemporary canvas prints.
Artistic and Contemporary Canvas Print
Artists often ask Superchrome to print copies of their original painting onto canvas. Superchrome has a digital imaging service where we scan in high resolution and then print single or multiple copies of the original art. This is a popular way for artists to generate income by selling limited edition prints of their art. The contemporary canvas print is guaranteed to be as fine detailed as the original due to our colour matching service. The more copies you order, the cheaper it gets! How is that for great value?
Ask our team of friendly graphic designers for further information.
Contemporary Canvas Print and Lots of Choice by Superchrome
If you do not have an image available, but wish to order a contemporary canvas print, take a look at our online gallery of images. Bright colours, geometric shapes and landscapes are extremely popular with our customers. We can even print over three canvases to create an amazing effect. This is the most modern way of displaying your canvas.
Upload your image to Superchrome via our website and add your requirements. Don't forget to add your telephone number and address. Choose from a range of finishing options such as gloss or matte canvas, framed, unframed, stretched or unstretched, sprayed to increase durability or left natural.
Order your Contemporary Canvas Print
Thank you for visiting Superchrome today. We look forward to helping you with your order. We are happy to help with any size custom order.
If you have any questions, please contact Superchrome in any of the following ways:
Superchrome is waiting to send your contemporary canvas print or prints today.
CONTACT SUPPORT
Every file that you upload will be managed by an account representative to ensure that your
order receives the attention it needs.