Computer Graphic Designer
Computer Graphic Designer
Do you need a computer graphic designer to help you design your exhibition, trade show or seminar business graphics? Superchrome is one of the leading large format printing companies, and the top supplier of exhibition displays, stands and graphics in the UK and worldwide.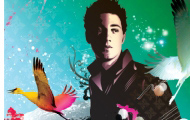 Our computer graphic designer can design stunning graphics for your business or exhibition and print out a full range of products depending on your needs. We design company logos, brands and advertising campaigns. We advise on colour schemes, substrates and the best ways of displaying your graphics.
A Computer Graphic Designer is Full of Big Ideas
All you need is an outline of your design or even just a tiny idea. Our computer graphic designer will take your ideas or outline, expand them and create a design using the latest computer design software. Choose from colour, black and white and different fonts. Your business will not need to worry about changing the design or reprinting it as it will be stored on CD or memory card so that you can take it away, email it and when your business needs their logo or company graphics design updated all you need to do is contact Superchrome's computer graphic designer!
Computer Graphic Designer and then Print
Once our in house computer graphic designer has completed the design, Superchrome will print it onto a variety of substrates.
PVC Banners – as large as you wish
Mesh Banners – even larger, for tall buildings and windy areas
Posters – blue backed, framed
Calendars and Brochures
Signage – printing direct onto Foamex
Canvas – artistic grade and 100% cotton
Canvas – for backdrops
Exhibition displays – boards, posters, signage and interchangeable
Floor graphics
Wall graphics
Window self adhesive graphics
Photographic papers – all brands
Backlits – change your graphics easily
Flag banners
We also supply banner stands for indoor and outdoor with high portability.
Order your Computer Graphic Designer today
Thank you for visiting Superchrome today. Our computer graphic designer looks forward to helping you with your order. We are happy to help with all sizes of orders.
If you have any questions, please contact Superchrome in any of the following ways:
Superchrome's computer graphic designer is always pleased to help.
CONTACT SUPPORT
Every file that you upload will be managed by an account representative to ensure that your
order receives the attention it needs.