Canvas Print
Are you fed up with staring at that blank wall every day? It is not very inspirational is it? A canvas print will change your office for the better. When you stare at the colourful, artistic canvas your brain will fire up with creative ideas and inspire you until you are bursting with clever ideas. A canvas print will brighten up your office and make it feel more homely. When you are relaxed, work will be easier. Choose from a range of canvas print sizes. Sizes start at A4.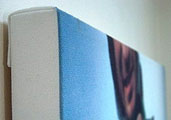 You can even upload your photograph image to our website. We have made ordering super easy.
Canvas Print for Artists and Photographers
Superchrome is the leading large format printing company in the UK and we often travel worldwide to supply and install large custom orders. We have offices around the world. You can trust us to print fantastic quality canvas print for your home and office. Artists and Photographers, we offer discounts for bulk printing. When you order 4 or more prints the prices go down. This is perfect if you wish to print limited editions prints or if you have an art gallery display to set up.
Canvas Print quality with Superchrome
We print onto a variety of canvas substrates, including, water resistant, gloss or matte cotton canvas. We will also print onto heavy weight artist canvas for fine art prints. Heavy weight artist canvas is perfect for auctions or if you want to protect the original painting to preserve its value. Contact us for a free quotation for a heavy weight artist canvas print. Sizes go up to 2m x 2m.
We can also print your image onto polyester canvas. This is popular for theatre backdrops and even exhibition backdrops.
We have a range of finishing options including spray colour varnish. Choose from matte canvas, polycotton, satin for shine or heavy weight artist canvas print.
Order your Canvas Print today
Thank you for visiting Superchrome today. We look forward to helping you with your order. We are happy to help with any size custom order simply call us on the number below.
If you have any questions, please contact Superchrome in any of the following ways:
Superchrome is waiting to send your stunning canvas within 48 hours.
CONTACT SUPPORT
Every file that you upload will be managed by an account representative to ensure that your
order receives the attention it needs.