Canvas Print UK
Welcome to the Canvas print UK one stop shop. Superchrome is the leading large format printers and exhibition suppliers worldwide. Choose canvas print UK to transform any home or office. Are you an interior designer? Prepare to be spoilt for choice! Interior designers never run out of canvas print UK ideas with Superchrome. Adorn your customers' homes with a unique collection of prints.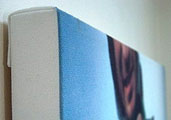 Massive Variety of Canvas Print UK
Choose from a huge variety of canvas print UK. We have access to an online gallery that contains thousands of images. Are you looking for modern art, abstract art or an Old Master? We have everything including Leonardo Da Vinci, Monet and Damien Hurst canvas print UK!
Would you like your own copy of the famous Mona Lisa by Leonardo Da Vinci? Have you ever visited the Louvre gallery in Paris, France? Did you notice that the original Mona Lisa painting looked smaller than you imagined? Did you know this painting is behind bulletproof glass in order to protect it from vandalism? It was damaged by thrown acid and once by a thrown rock.
Why not complete your interior design with a larger version of the Mona Lisa? Superchrome provide a range of finishing options, so if you are worried about a disgruntled guest throwing something at your prized Mona Lisa canvas print UK, then we can put it behind acrylic for you. If Mona Lisa is not your cup of tea, then there are plenty of other images to choose.
Limited Edition Canvas Print UK for Artists
We also cater for artists. Why not use our high resolution scanning and printing service to create limited edition copies of your original art. We use top quality cotton canvas in matte or gloss and there is a heavyweight option for fine art printing. We have a colour matching service too. We print proofs to ensure that colours are identical to the original, before we print the finished product.
Order your Canvas print UK today
Thank you for visiting Superchrome today. We look forward to helping you with your order.
If you have any questions, please contact Superchrome in any of the following ways:
Superchrome is waiting to send your choice of canvas print UK within 48 hours.
CONTACT SUPPORT
Every file that you upload will be managed by an account representative to ensure that your
order receives the attention it needs.