Buy Art Print
Superchrome welcomes you to our website to buy art print. Feel free to look around to see what other large format printing we can do. We are large format printers and suppliers for all your exhibition needs. Our main role is to help customers design and install custom display stands for exhibitions, art galleries and trade shows. Take a look at our gallery to see some of the amazing exhibitions we have designed and installed all over the world. We have even supplied printed artwork on gold foil for MTV. You may have spotted some of our work at the London 2012 Olympics.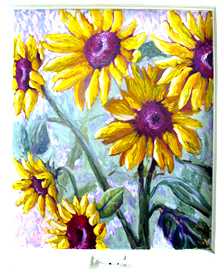 One Stop Shop to Buy Art Print
If you are looking to buy art print, then look no further. We print art on a variety of substrates including PVC banners, photographic paper, acetate, window and floor graphics, graphic paper, aluminium composite and foamex. We can also sandwich in acrylic to make a show stopping print. When you buy art print, you can choose any substrate you desire. If we do not have it, we can source it. Choose from our online gallery with an amazing variety of art from all periods or upload your own art via this website.
Select the amount of prints you need, sizes and finishes and Superchrome will print it on our superb, top of the range HP Designjet printers using eco-friendly UV inks so that your buy art print will not fade and your picture will look stunning on your business, home or office wall for a very long time.
Finishing Options when you Buy Art Print
When you buy art print from Superchrome, you will be extremely impressed with the excellent quality and superb customer service. You can expect to receive your art quickly too.
Superchrome offers a canvas stretching service over a quality wooden frame. Ask about our canvas framing options and hanging or mounting options too. All prints can be sprayed with finishing options to ensure durability and longevity.
Buy Art Print from Superchrome today
Thank you for visiting Superchrome today. We look forward to helping you with your order.
If you have any questions, please contact Superchrome in any of the following ways:
Thank you for visiting Superchrome's website and feel free to return at any time to buy art print.
CONTACT SUPPORT
Every file that you upload will be managed by an account representative to ensure that your
order receives the attention it needs.