Banners
Superchrome are the industry leaders in large format printing and fully customisable banners. Banners are a cheap and effective way to advertise your business, because we digitally print them with durable inks. They are ideal for exhibitions, sporting events, celebrations and trade fairs.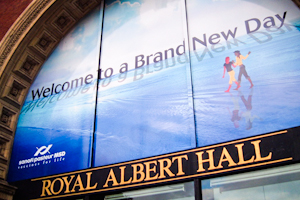 Based in London, UK, we provide many exhibition products to our customers worldwide. Choose Superchrome for the best in digital printing – we are the only company who print on twenty different substrates.
We love a challenge. No job is too big for us!
Banners Get Your Message Across
Banners are perfect to get your message across to your customers. We print high-resolution quality in any colour or font. Choose any size to meet your needs.
They can be hung outdoors and will still last for years. We digitally print using durable, weather resistant UV inks. Outdoor banners are made from heavy-duty PVC and vinyl and are fully hemmed to make them extra strong and to stop rain getting into the seam.
Mesh banners are perfect for tall buildings, scaffolding, building wraps and high wind areas, because the mesh allows wind to blow straight through the banner without damaging it. Or choose high-resolution canvas with a range of finishes and stands for your exhibition display.
All banners are strong and durable to ensure they last and can be used multiple times. Choose from a matte or gloss laminate finish. Paper fireproof options are also available.
We Have a Stand for Your Banners
We have a variety of strong steel banner stands. Our most popular stand is the ChronoExpo. Alternatively, we can manufacture your banner so it is ready to hang with strong eyelets. We provide a hanging service. If you need your banner hung on your building, phone us today and we will organise it for you.
We deliver worldwide.
How to Order Your Superchrome Banners
It's easy to order with Superchrome. First, choose your size, font and colour scheme, then upload your artwork to our website. We will do the rest. We provide a free design service to help you get the best out of your order. Use our free 24/7 call back service to speak to an agent today.
Please contact Superchrome in any of the following ways:
Thank you for visiting us. Superchrome is waiting to hear from you.
CONTACT SUPPORT
Every file that you upload will be managed by an account representative to ensure that your
order receives the attention it needs.