Banner Stands UK
Are your banner stands letting you down? Superchrome has a huge range of banner stands UK waiting for you! We are the leading exhibition suppliers in the UK and have offices worldwide. We supply banner stands UK to exhibitions, trade shows, sporting events, museums, art galleries, students and small businesses for seminars. We have a bank of large format printers and will print your graphics onto top quality PVC banners too. We have a whole range of substrates for your exhibition including foamex, canvas, photographic paper and we can source materials on request. Custom orders are our most favourite thing!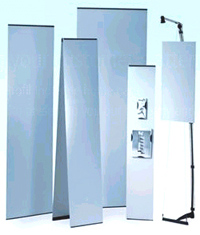 Outsmart the Competition with Banner stands UK
Come to Superchrome to outsmart the competition. All our banner stands UK are top quality. We can provide anything you need for your exhibition, even scrolling banners. Our most popular range of banner stands is the Chronoexpo. They are a versatile stand that can be used for any occasion. Choose from nomadic display stands, pop up stands, modular stands, roll up, and pull down banner stands UK. We provide stands that can be used indoors or outdoors. Put two or three stands together to create a larger display that will surely attract more customers to your exhibition or trade show display. Sporting events are another popular use for Superchrome banner stands UK.
Portable and Light Banner Stands UK
Superchrome's banner stands UK are designed to be easily carried from office to exhibition. They will fit in your car or van. Pop Up and roll up banners and banner stands are sold with a fantastic carry case so that you can throw them in your car and carry or wheel them into the exhibition without any stress or strain. We like to make your life easier.
Graphics Printed for your Banner Stands UK
Don't forget to ask us to print your business and branding graphics onto your banners.
Add lighting to illuminate your display and your exhibition is ready. Prepare to meet all your new customers!
Order your Banner Stands UK from Superchrome today
Thank you for visiting Superchrome today. We look forward to helping you with your order.
If you have any questions, please contact Superchrome in any of the following ways:
We are looking forward to hearing from you.
CONTACT SUPPORT
Every file that you upload will be managed by an account representative to ensure that your
order receives the attention it needs.