Banner Stand Displays
Breathe life into your exhibition or trade show display with banner stand displays from the number one exhibition suppliers, Superchrome. Superchrome have offices in the heart of London, UK and worldwide. Customers range from museums, art galleries, small businesses and large corporations in addition to individuals. You may have seen our work at the Olympics 2012.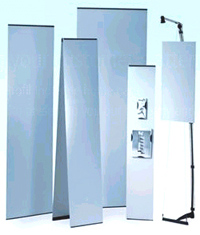 Attract Customers with Banner Stand Displays
Banner stand displays are the first point of contact for your customer, therefore you need to attract them into your display with a fantastic banner. Superchrome print wide format, large format banners in a range of fonts, colours and styles. Choose from indoor and outdoor banners in PVC and then add the stand to complete your banner stand displays.
Choose from a wide range of banner stands. We manufacture and install modular displays to your own custom design. If you need a portable display we have a wide range of options for indoor and outdoor use. Take a look at our pop up banner stand displays, retractable banner stands and nomadic displays.
All our banner stand displays come with a strong carry case so they will easily fit into your car. Banners can be rolled up and stored until they are needed for the next trade show or exhibition.
Superchrome Prints Graphics for Banner Stand Displays
Superchrome will print your graphics onto your pop up display or retractable display. Either upload your graphics to our website, and fill in the form to state your requirements or post in your graphics. Our team of graphic designers are experts in colour matching. We only use top quality materials and the best HP printing technology.
Banner substrates are all fully printable, top quality PVC or roller banner material. Retractable displays are printed onto a grey backed roller banner material and pull up displays can be printed from any size.
Choose from a range of banner stands to complement your display. The Chronoexpo is our most popular range of high quality stands.
Order your Banner stand displays from Superchrome today
Thank you for visiting Superchrome today. We look forward to helping you with your order.
If you have any questions, please contact Superchrome in any of the following ways:
We are looking forward to creating your Banner stand displays.
CONTACT SUPPORT
Every file that you upload will be managed by an account representative to ensure that your
order receives the attention it needs.