Banner Printing
Come and celebrate your party or wedding with Superchrome! We print fantastic banners for every occasion. Our colourful banners are top quality and made to last in all weathers. Superchrome's banner printing service is low cost and super fast.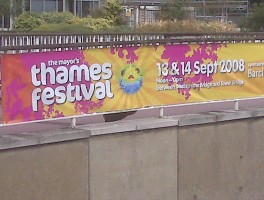 Do you need banners for a seminar, event, or exhibition? Our large format banner printing service is perfect for you! You can even upload your desired artwork onto our website and we will digitally print it on top quality banners.
Banner Printing Is the Durable Low Cost Solution for Your Business
Banners are the number one, low cost solution to advertise your business. They are light, portable and so easy to store until the next time. Banner printing is designed so they can be folded up and put away until the next exhibition. They are high quality and extra durable so you can use them over and over again.
Custom Banner Printing
Superchrome print vinyl, mesh and canvas banners to suit your needs. Choose from a rainbow of colours, styles, and fonts. We can even do banner printing on a gold or silver background.
Banner printing can be any size from small to large and wide format. Choose from a range of top quality aluminium stands or poles or choose hemmed banners with strong eyelets for hanging. If you need your large format banner to be hung from a building we provide an installation service to save you precious time.
Our banners are printed using the latest digital technologies and the finest inks. Our inks are UV resistant to add extra durability and strength to your banners and to stop them fading. Banners are designed for use inside and outside.
Upload Your Own Banner Printing Artwork
Do you have a special design in mind or a favourite photograph that you wish to have printed on your customised banners? Do you want your company logo and company graphics printed in photo quality? Simply upload your image or artwork to our website and we will do the rest.
Order Your Banner Printing Today
Our banner printing service is fast and efficient. Upload your artwork, specify your design and we will print and deliver immediately. Our service is proven by many customers who keep returning for more Superchrome banners.
Please contact Superchrome in any of the following ways:
Superchrome is waiting to help you with your order.
CONTACT SUPPORT
Every file that you upload will be managed by an account representative to ensure that your
order receives the attention it needs.