Art Prints On Canvas
Art prints on canvas are the perfect way to ensure your home, school, office or business walls look professional, inviting and interesting. They are also a great way for artists to create prints of their original artwork. Superchrome, based in London, UK, have offices worldwide and will print for everybody. We have the latest in large format printing technology and our team of graphic designers are waiting to help you with any type of custom order. We love a challenge. Check out our gallery for an idea of custom orders we have completed. Superchrome has achieved immense customer satisfaction and fast turnaround times.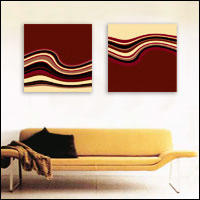 Art Prints on Canvas for Artists and Art Galleries
Art prints on canvas look stunning and vivid due to Superchrome's top of the range bank of large format HP printers. Our team of graphic design professionals are experts in colour matching from your original artwork or from your image.
Choose from a range of sizes, shown below and a range of top quality canvas grades. We can print onto heavy-duty artist canvas too. This is popular for fine art auctions. All our prints will be so close to the original, that your customers will not be able to tell the difference. Artists, order more than one art prints on canvas and notice the fantastic price reduction.
Art Prints on Canvas for the Home
Why not order a set of art prints on canvas to give your family and friends a special gift to remember your wedding, birth of son or daughter or special family occasion such as an anniversary or birthday. The more you order the cheaper it is. Choose from a range of sizes and spray finishes. Prints can be framed on request.
It's so easy to order art prints on canvas with Superchrome. Either upload your image to our website and fill in the simple form with your requirements or ask us about our gallery of images. We look forward to helping with your order, however large or small.
Order your Art Prints On Canvas from Superchrome today
Thank you for visiting Superchrome today.
If you have any questions, please contact Superchrome in any of the following ways:
We are looking forward to creating your art prints on canvas to your specifications.
CONTACT SUPPORT
Every file that you upload will be managed by an account representative to ensure that your
order receives the attention it needs.